Reviews
For Those in Peril | Review
Fish Out of Water: Wright's Debut a Visually Arresting, Moody Allegory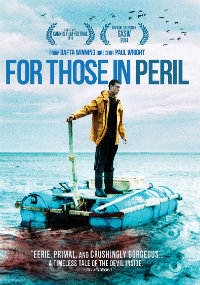 The mythological significance of the sea inflects and infects Paul Wright's somber directorial debut, For Those in Peril, a dark allegory which takes its title from a line in a traditional naval hymn. Related with a heavy earnestness, there's nary a break from the staunchly bleak tone, a saturation that tends to cast its final flight of fancy moment into mind-numbing dubiousness rather than landsliding into poignancy. Be that as it may, Wright's visually arresting debut is often a poetically charged portrait of a pariah in an emotional wasteland of a community's dismissive cruelty.
The sole survivor of a fishing boat accident that claimed the lives of five others, including his own older brother, we meet Aaron (George Mackay) preparing for his sibling's funeral with the help of his mother, Cathy (Kate Dickie). But we're quickly clued into the fact that Aaron was not among the town's most beloved citizens and was generally considered an odd man out. The parents of the other children are bitterly resentful of the fact that their own, more masculine, more socially adept kids were claimed by the sea rather than Aaron. Amidst these constant criticisms, it doesn't help that Aaron cannot remember anything about what transpired; only that he is convinced that his brother is still alive out there. Beyond his sympathetic but helpless mother, the only friendly face is his brother's grieving girlfriend, (Nichola Burley), whose father (Michael Smiley) is none too happy to see him hanging around.
Crafted around the central protagonist portrayed by George Mackay, For Those in Peril has a very insular, contained mood for a tale that hints at much greater narrative possibilities. Mackay's Aaron is faced with an inordinate and repetitive pattern of hatred in his crusade to prove that he believes his brother is still alive, lodged in the belly of a 'devil' in the sea, orally related to us from a fairy tale his mother would soothe him with as a child.
Aaron's insistent hang-up on the fairy tale is indeed frustrating, yet it seems an obvious world to escape into considering the barren rock of his daily reality, which it seems wasn't much better before the terrible accident. Mackay's commendable, introverted performance is what makes this at all believable, a shell-shocked, traumatized teen with a heaping load of survivor's guilt to hang around his neck. His shared scenes with Nichola Burley, playing his brother's girlfriend, are rather tender, nicely developed moments. We see a softer side of Kate Dickie as Aaron's mother, but her character's ineffectual and passive resistance to the town's attitude towards her misfit son casts her in a rather unappealing light. Still, an aside into karaoke conveys her feelings much more eloquently than any of her dialogue.
At times impressive, mostly due to Benjamin Kracun's strikingly shot landscapes of local Aberdeenshire, For Those in Peril is effective as an allegory, its haunting fairy tale continually drummed into our skulls as the film moves along. Surely, Wright catches the tone better than something like Neil Jordan's saccharine schmaltz Ondine (2009), an Irish tale about another kind of sea creature. Its final moments will stick with you, if mostly for Wright's insistence on the audience creating its own interpretation of what the ending means.
★★★/☆☆☆☆☆