Reviews
Free State of Jones | Review
The Newton Men: Ross Emancipates History Lesson from Obscurity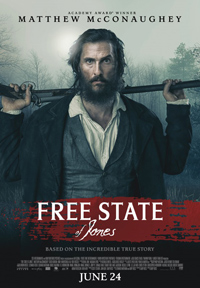 At a point in time, a dramatic reenactment of a provocative but overlooked American Civil War era event such as Free State of Jones may have been hailed as an enthralling saga with provocative relations regarding more contemporary issues dealing with race relations in the United States. But here in 2016, Gary Ross' depiction of a Confederate deserter who rounded up runaway slaves and enraged poor Southern white folk to take back the land and food their own people had stolen from them proselytizes a bit too resolutely and in sometimes overly sanitized terms. In other words, its flavor is a lot like the overcooked white meat on the turkey, a bit dry, and tasteless, and with the ability to cause a bit of drowsiness. That's not to say there aren't compelling bits, even if Ross's screenplay (adapted from a Leonard Hartman story) overextends itself significantly, but it never strays from a sometimes obnoxious essence of a medicinal history lesson.
In 1862 Mississippi, as the American Civil War rages on, Confederate medical nurse Newton Knight (Matthew McConaughey) is already weary as a witness to the bloodshed. When one of his neighbors from Jones County, a young teen, is killed in battle, Knight deserts to bring the boy home for a proper burial. Wife Serena (Keri Russell) is nervous to have him back as she cares for their infant son, but when he sees Confederate soldiers looting local farms of all their goods, Knight takes a pronounced stand in defense, but is routinely chased off into the woods, wounded. Resting up with a group of runaway slaves, more or less led by the troubled but wise Moses (Mahershala Ali), Knight begins to build a ragtag group of people, which grows in size thanks to an increasing number of Confederate deserts. He also begins to have romantic aspirations for a house slave, Rachel (Gugu Mbatha-Raw). Soon, after amassing weaponry, they take over several counties and declare their land as the Free States of Jones, where black and white men live in a state of equal opportunity. Until the end of the war, which brings more complex brands of racism and degradation.
Insistent jump cuts to a tepid courtroom debate eighty years later finds Knight's ancestor on trial in Mississippi for marrying a white woman despite having black ancestry (a descendant from the child Knight fathered with Rachel). Since interracial marriage was illegal at the time, this additional chapter of the Knight saga would seem to showcase the enduring ridiculousness and troubling tradition of hateful ignorance, but instead bogs down the running time unnecessarily. More annoyingly, these interjections are cheaply acted and filmed, and are about as milquetoast emotionally as another recent interracial marriage misfire from Jeff Nichols, Loving, a smoothed over portrait of the couple who would become responsible for the history changing Supreme Court decision Loving V. Virginia. The obvious grandstanding and progressive righteousness may be well-intentioned, but makes for ungainly, preachy, on-the-nose cinema. Speechifying from McConaughey on why they're fighting and for whose gain tends to stray into overly rehearsed soap box territory, again, with what seems an overarching message about current climates of conflict in the Middle East.
As Newton Knight, Matthew McConaughey gives a generous, emotionally wrought performance as a man who always seems to do and say the right thing. His friendship with Moses, played with equal resonance from Mahershala Ali, instills the film with its greatest, perhaps most relevant potency. But just as Jared Leto's transgendered Rayon character was completely fabricated in order to create empathy for McConaughey's homophobic lead in Oscar winner The Dallas Buyers Club (2013), there's something equally suspicious afoot here with a tale bound to be easily dismissed as another saga of the white savior. The imagined interactions between Newton's new wife, sensitively played by Gugu Mbatha-Raw (in a subservient supporting role a bit similar to her turn opposite Will Smith in Concussion) and his estranged first wife (a pinched but appropriately serious Keri Russell) are extremely elementary, and only add to the film's overtly sterile energy.
Inevitably, this certainly doesn't compare to the intensity of Nate Parker's more vicious and jarring saga on Nat Turner with Sundance winner The Birth of a Nation (an uprising which predated the American Civil War by thirty years). Ross heavily scrubs moments of excessive violence, with rape, beatings, and multiple lynching happening off screen. This certainly will make such grueling subject matter seem more palatable to sensitive audiences (but should it be?) yet also belies a sense of cut corners. Sure, we see brains splattered out and a man's face mashed in as the film opens, but Free State of Jones also feels a lot cheaper than it would suggest.
DP Benoit Delhomme (The Theory of Everything, 2014) does little to assist with a sense of grandness, instead prizing slow, intense close-ups in sequences meant to fondle us with actors emoting. Some of the editing (Pamela Martin and Juliette Welfling) has a bit more verve, even if it sometimes cuts toxically to the palpable silliness of the staged courtroom sequences.
★★½/☆☆☆☆☆