Reviews
Septembers of Shiraz | Review
Iran, So Far Away: Blair's Simplistic, Tedious Period Portrait of Iran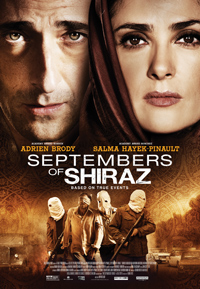 One glance at the headlining cast of Septembers of Shiraz should indicate a sense of belabored unease, as it stars Adrien Brody and Salma Hayek as a Jewish family persecuted during the Islamic revolution in 1979 Tehran. It's a curious, even ambitious attempt at a sophomore feature from Australian director Wayne Blair, who came to prominence in 2012 with period flick The Sapphires, an audience pleaser about an all-girls Aboriginal group who overcome adversity and entertain US troops in 1968 Vietnam. With his historical romantic dramedy, he was easily able to overcome the apparent frugality of his budget with vibrant performances and an underdog narrative too difficult for many to easily dismiss. Not so this time around. Adapted by Hanna Weg (with her first solo writing credit) from Dalia Sofer's 2008 bestseller, subtlety isn't anyone's forte in this big screen version, either in front of or behind the camera. Less than impressive production values and a script which would actually benefit from the chop of several commercial breaks reduces the film's significant subject matter into a tedious experience.
In 1979 Tehran, Isaac (Brody) and his wife Farnez (Hayek) live a comfortable existence with their daughter off his salary as a successful Persian-Jewish jeweler. But when the Islamic Revolution takes Iran by storm, they don't seem to comprehend the danger they're in until Isaac is arrested by the Revolutionary Guard and accused of having covert dealings with the Mossad. While he's tortured, Farnez is unable to seem him. Their assets are compromised and she is threatened with being interrogated about her dabbling as a journalist and publishing articles in Western travel magazines. As she waits to discover the fate of her husband, her maid Habibhe (Shohreh Aghsdashloo) begins to vocalize her simmering discontent.
Although cinema can sometimes work beyond the limitations of ethnically questionable or inappropriate casting (where performers are at least in the same region or hue), this is never the case in Septembers of Shiraz, which more or less splits off into tangential experiences of Adrien Brody being tortured (in-between philosophical breaks with his captor), and the increasingly volatile tension between Hayek and her maid cum confidante. What follows is a rigorous exercise in gleeful vengeance on the side of the Revolutionary Guard, who are presented as ornery, adolescent inclined men who are at least as thinly characterized as their abused protagonists. "How do you like it now that the tables have turned?" is the constant refrain of Septembers of Shiraz, which is so comatose in its ability to explain why any of this is happening the presence of Brody makes this seem like another rehash of the Nazi threat in The Pianist (though without whatever virtues can be claimed there).
Salma Hayek's presence makes this borderline science-fiction, but at least her bickering with her maid gives this a sort of Paul Haggis schmaltz factor. Which is a pity because a throaty Shoreh Aghdashloo as the understandably resentful maid courts the necessary sympathy none of the other characters can. Some kind of actual resonance could have been gleaned from these otherwise banal scenarios had Aghdashloo at least been surrounded by appropriate co-stars, preferably speaking Persian. Instead, complicated emotions are reduced to the most simplistic, universal terms possible (such as Habibeh suggesting Farnez and Isaac's assistance in rescuing both her and her son from starvation on the streets had pronounced limitations).
Stylized flourishes pertaining to a Bellerphonic letter and some glitzy jewels figure as catalyzing agents for what's meant to be a pulse-pounding escape thriller in the third act, but you'll instead be counting the beats of Mark Isham's overly exploding score to a meaningless finale in a film only managing to inspire apathetic tendencies.
★/☆☆☆☆☆