Girl From Ipecac: Murdoch's Musical a Flimsy Masquerade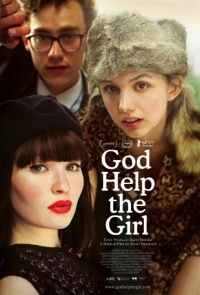 The directorial debut of Scottish musician Stuart Murdoch, the lead singer and songwriter of famed indie pop band Belle & Sebastian, makes a highly anticipated directorial debut with God Help the Girl. Murdoch, unfortunately, overreaches himself considerably in this dull exercise of endless emotional exposition which desperately wants to infuse the musical sensibilities of Jacques Demy into the drab kitchen sink melodrama of teen angst in Glasgow.
Harpooning the lead female protagonist with a serious eating disorder that it never manages to treat seriously enough, Murdoch attempts to tell a story through continuous tracks that represent her journey to a healthy mind frame as a woman and an artist, but fails miserably by giving us what feels like one incredibly long music video about an endlessly recycled angst of struggling to follow one's dreams.
An Australian songwriter far from home, Eve (Emily Browning) is currently residing in a mental health facility where she has been in recovery for depression and an eating disorder. She has a passion and flair for music, and her health has recovered enough to see her sneaking out of the facility and attending a local pub where she witnesses several musical acts. One such performer happens to be Anton (Pierre Boulanger), a Swiss-German rocker that catches Eve's eye. But the follow-up act, James (Olly Alexander) gives a memorably muddled performance and ends up befriending Eve, though his obvious attraction to her will remain unreciprocated. Chastised upon her return to the hospital, Eve eventually finagles her way into an early release and goes to live in the spare room in James' flat. Then, she delivers a mixed tape of her work to Anton with the request that he deliver it to a local radio station that fosters new and upcoming talents. As her flirtation deepens with Anton, Eve is mostly bonding with James, attending the musical lessons he administers to a young, rich student Cassie (Hannah Murray). Soon, they're three peas in a pod and convinced it's their duty to form a band based on their complimentary styles, a little but Osmonds and a little bit Bowie.
If that all sounds rather flat, it's because it is and one gets the sense that Murdoch fashioned the film to be enlivened by the multiple musical interludes, which apparently was how the film was fashioned, after an earlier album of multiple female vocalists. Unfortunately, these sequences often have the opposite effect, most of them blending unforgettably to the next. It doesn't help that nearly all of the songs feature the angst ridden, sad eyed Browning mooning directly into the camera as the background segues into kitschy 60s inspired vignettes.
The film bloats to a running time of nearly two hours for what seems a repetitive melancholy message from a young woman we don't get to know very well beyond her desire to write pop tunes and escape her constant sadness. Other characters get even less momentum, including the geeky sycophant played by Olly Alexander, an aggravating presence inexplicably drawn to the black hole of Eve. Their third mate, Cassie, as played by Hannah Murray, is the least offensive of the trio, but she's given about as much substance as dandelion down blustered about by the wind. Nothing about Eve's very serious issues seems to be addressed with any real certainty, her eating disorder seemingly the side effect of not selling her music, with her songs crafted around the banality of daily activities.
Their idea to form a band seems to be born out of the fact that they've no more pressing responsibilities, so, hey, why not? But as they discover they've nothing to croon about, we too realize we've duped into watching a film that has nothing much to say, either.
★/☆☆☆☆☆