People Are People: Genz's English Debut a Satisfactory B-Grade Noir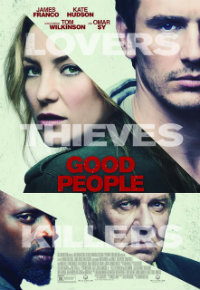 Expectations may a bet set a bit too high for Danish filmmaker Henrik Ruben Genz's descent into the English language with his adaptation of Markus Sakey's novel, Good People. Considering that 2008's Terribly Happy, the director's last film to play stateside, drew comparisons to the Coen Bros. and David Lynch, this latest effort pales severely in comparison, resembling more of a kitchen sink noir drowning in its own sea of dirty dishwater. Bereft of any vicious underpinnings or subversive class commentaries that would have at least presented something to chew on, we're treated to the kind of deceptive web that doesn't seem altogether probable from all its various angles.
Tom and Anna Reed (James Franco, Kate Hudson) are struggling to make ends meet after migrating to London to claim a sizeable home they've inherited. However, the property is in disrepair, leaving Tom to complete the renovation nearly on his own and without proper income to do so. About to be evicted from the flat they're renting while renovations are going on, the man renting their basement dies from a drug overdose. Left to clean up the after effects, they discover a bag of cash, the remnants of a robbery their tenant had been involved in. Reluctant to report their find to the detective on the case (Tom Wilkinson), they decide to 'hold' onto it until they can decide what to do. However, their tenant just so happened to screw over his business partners, who are looking for the money. Meanwhile, the suspicious detective is revealed to have particular personal interests in the case.
Inevitably, Good People seems like a watered down version of Sam Raimi's A Simple Plan (1998), another blue collar fantasy about discovering that big sack of money to solve all one's economic woes, only to find it comes with significant strings attached. Generally, there's an unsaid moral to the story, which Good People is trying to smugly imply with its oxymoronic title.
Pointed conversations between the struggling American couple at the center of the film are reduced to generalization and cliché about the prospect of taking the money Anna calls 'bad.' "Money isn't bad," her husband retorts, "it's what people do with it." And what of these poor, put upon Americans so unfortunately tethered to an inheritance that they can't afford to properly fix up in one of the most expensive cities in the world? Well, they're running away from themselves and their own bits of privileged issues, we discover, so perhaps this is a sly cultural castigation. But it's hard to imagine how much more interesting Good People would have been with any couple other than white Americans at the center.
It's difficult to build much sympathy for Franco as everyman Tom Reed, especially since the actor himself seems a bit bored with playing the protagonist. As for Hudson, in a role that was originally meant for Jessica Chastain, it's yet another chance for the actress to be seen outside of her rom-com coated filmography, but it's rather a throwaway role.
Tom Wilkinson's vengeful detective has the most intriguing subplot, but it's scrubbed down in convenience and vagary, a tool to compound the finale with an extra twist. Other notable cast mates, like Anna Friel and Omar Sy are frittered away as mere window dressing.
That's not to say Good People is necessarily an unfulfilling film because it's not. Good People is just a rather bland film considering its pedigree, not to mention Kelly Masterson adapted the screenplay, a writer whose previous credits include Before the Devil Knows Your Dead (2007)—an excellent neo noir, and this year's Snowpiercer.
This could have been an incredibly dark comedy/thriller because, as the tagline reads, "money changes everything," and people are neither good nor bad, but mostly predictable creatures involved in the same self-preservation scheme as all the other animals roaming around. But these Good People should be called Familiar Types.
★★½/☆☆☆☆☆