Reviews
Grace of Monaco | 2014 Cannes Review
Coup de Grace: Embellishment Can't Save Dahan's Fairy Tale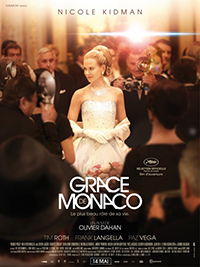 Try as it might, Grace of Monaco can't seem to wring any significant interest out of the historical moment it exaggeratedly blunders through. While it seems Harvey Weinstein's public gripe concerning the director's cut could very well receive critical support after its Cannes premiere, it's doubtful that any amount of king's men could put this together into some semblance of quality. Rife with melodramatic cliché, questionable casting, and some editing choices that appear to be imbuing the film with flourishes that the onscreen subjects cannot generate, the film staggers through key events in Kelly's life to bring us to the conclusion that she left behind acting but embraced the role of a lifetime. Dahan, despite some uneven choices, generally has a knack for catching superb lead performances from his leading women, such as the Oscar winning turn from Marion Cotillard for La Vie En Rose, or an underrated Isabelle Huppert vehicle, La Vie Promise. While Kidman is certainly a big draw here, an impuissant script and a lascivious amount of obsessive close-ups distract from a performance that appears to contradict the political turmoil behind the scenes.
Beginning in 1961, we glide on the laurels of friend and director Alfred Hitchcock (Roger Ashton Griffiths) into Grace Kelly's (Nicole Kidman) new life as the Princess of Monaco. He wants her to return the silver screen in his new project, Marnie (though, as history would dictate, this would a role that would go to Tippi Hedren for reasons that the narrative attempts to explain). It would seem that life hasn't been a bed of roses since her marriage to Prince Rainier III (Tim Roth). Though she realizes that an attempt to go back to Hollywood to do the film will cause conflict, she initially wishes to do so. But the timing is all wrong. Her husband is currently involved in vicious struggle with French president Charles de Gaulle (Andre Penvern), whose costly war in Algeria has caused him to demand that all of the French businesses that have relocated to Monaco for the tax free benefit now be taxed and the proceeds sent to France. Balking at this request, Rainier's standoff with the imperious de Gaulle means his sovereign nation may be invaded and browbeaten into French citizenship. With tensions so high, Grace must force herself to assimilate into her new culture as she's heretofore been unable to do, requesting the assistance of her only confidante, an American priest (Frank Langella) and an esteemed historian of sorts (Derek Jacobi). Suddenly, she discovers she may have an idea that will quell the rising tension between France and Monaco.
Princess Grace would have been in her early thirties at the time in question, the film spanning roughly from 1961 to 1962. Ms. Kidman, as breathtaking as she is, often seems to be a bit too mature for this role, currently in her late forties. Not to take a potshot at the lovely and talented actress, but her distracting visage is more of a detriment than anything, her face sometimes resembling a porcelain mask. An emotional monologue at the film's end supposedly moves both her and several audience members to tears, yet only manages to leave the off screen audience cold and unmoved. Worse, she's made to react to a series of flashcards by conveying whatever random emotion has transcribed on it to varying effect.
The forced mechanics of the script tend to borrows bits and pieces from other notable films in its effort to relay Grace's fairy tale existence. Sir Derek Jacobi has to gussy her into a proper princess a la My Fair Lady, which seems more like the royal version of the Stepford treatment. Other cast members feel a bit out of place, such as Parker Posey as the shrewish Madge, never seen without an overblown air of sternness, enveloped into a mysterious subplot that tries hard to surprise us. Frank Langella and Tim Roth seem bored and utterly flat in their portrayals, while the likes of Jeanne Balibar and Milo Ventimiglia pad out the background. Then, an extremely awkward Paz Vegas shows up for a few cornball scenes as Maria Callas. Surpassing the stodgy screenplay by Arash Amel is Olivier Gajan's strange editing. There are several sequences where, for no apparent reason, Kidman is shown in extreme and prolonged close-up, the camera moving languidly around her face, closing in intensely on her eyes, as if trying to lick up her tears. On a positive note, we get to see new dimensions of the actresses' nostrils perhaps not yet seen.
A rather noir inspired high speed race through Monaco's mountainside anticipates what would eventually be Kelly's unfortunate demise, a flourish that seems like something ripped from the likes of Preminger's Angel Face. Yet, the more daring visual cues seem to die out there, as shortly after we're graced with a cringe inducing newspaper headline montage. Dahan's combination of political intrigue and cinematic history (the first half of the film aligns it with behind the scenes Hitchcock tidbits from the struggle to make Marnie) to enliven the real life fairy tale of Princess Grace only manages to feel forced and anticlimactic, ending on a note that seems to signify that it took a fancy ball and a well-meaning speech to save Monaco.
If one doesn't chuckle at the rather unaware pretension at Grace Kelly's quote used to open the film ("the ides of my life as a fairytale is itself a fairytale") the proclamation of "I am Monaco" in the final throes of her impassioned words should give you a better glimpse of the grandiose, overblown flair everyone's going for.
Reviewed on May 14th – (Opening Night Film) Main Competition – 103 Minutes
★½/☆☆☆☆☆