Citizen Lily: Weitz's Character Study Homage to Iconic Lead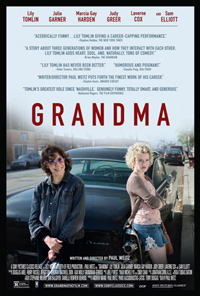 Since beginning his directorial career with 1999's American Pie, Paul Weitz has hovered in an in-between realm of either studio courting mixed or the main stream indie realm, sometimes reaching success, such as with 2002's About a Boy, but generally languishing in tepid waters with fare like Being Flynn and Admission. He reunites with actress Lily Tomlin, who had a throwaway supporting role in his last feature for Grandma, which superficially contends to be more of the same lackluster output. Fortunately, it becomes quickly apparent that this is definitely Weitz's strongest work in well over a decade, and gives Tomlin her best material outside of all those delectable Robert Altman titles that are peppered throughout her filmography. A character study that also serves as a familial drama and a topical issue film, its strengths aren't apparent in every sequence, but once we have a chance to relax into Tomlin's crusty, foul-mouthed protagonist, we slowly realize there's a complex and often melancholy thread operating just underneath the caustic sarcasm that lends the film a surprising depth.
After breaking up with her much younger girlfriend (Judy Greer), the misanthropic Elle Reid (Lily Tomlin), a financially struggling poet and professor with a sterling reputation among the women's studies crowd, is approached by her teen granddaughter Sage (Julia Garner) for help with procuring funds for an abortion. Sage refuses to approach her mother Judy (Marcia Gay Harden), who is estranged from Elle since the death of her other parent years prior. But Elle has just used all her resources to get out of debt and cut up her credit cards into a wind chime, so she doesn't have any money to spare. After approaching the father of the baby (Nat Wolff) in vain, the two trek across town to seek out figures from Elle's past that owe her favors, including tattoo artist Deathy (Laverne Cox) and Elle's distant ex, Karl (Sam Elliott), which opens up painful memories for both of them. In the end, it's decided that they'll have to face Judy's wrath to get the necessary funds for Sage's operation, which is scheduled for that same afternoon.
Grandma starts off a bit unevenly as it documents the dissolution of Elle's four month relationship with Judy Greer's Olivia, a rushed and clunky scene that feels overwritten. Luckily that changes rather quickly as we move immediately into the film's narrative concerns with the obtaining of funds for what sounds like an overly expensive abortion. Julia Garner appears with her dyed frizz of curls, but she's no equal for the steely yet wearied resilience of Tomlin, who plays Elle like a faded but formidable force to reckon with.
The vehicle seems built entirely around the actress, whose own late public acknowledgement of her sexuality lends the representation of Elle more of a fascinating edge. The film picks up an extra layer of feminine ferocity at the appearance of the superb Marcia Gay Harden, forming a cross generational trinity of familial reconciliation that could have easily felt hackneyed in the hands of lesser performers. Surprisingly moving performances from the notable supporting cast, including Sam Elliott and the late, great Elizabeth Pena, add to the slight but not insignificant dramatic impact.
Reviewed on January 26th at the 2015 Sundance Film Festival – Premieres Program. 80 Mins.
★★★/☆☆☆☆☆