The Reusable Bughuul: Foy Marks a Franchise for Death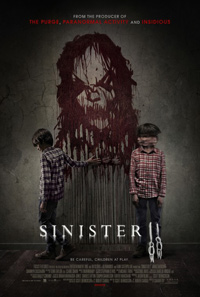 The only thing effectively murdered in the utterly unnecessary and awkwardly bungled sequel to Scott Derrickson's mostly effective 2012 film Sinister, unrolled with the equally uninspired moniker of Sinister 2, is the material's once lucrative franchise capabilities. But perhaps Irish helmer Ciaran Foy, taking over for Derrickson, is doing us all a big favor with this perplexingly lethargic follow-up to a film that was already reconstituting elements from a variety of other known genre entities (such as the exposure to vintage cinematic documents necessitating a sort of initiation into the specific paradigm of this particular dark realm a la The Ring).
No longer part of the police force following his involvement with the fiery end greeting the Oswalt family in Sinister, the now Ex-Deputy So & So (James Ransone) is committed to following up on the demonic entity known as Bughuul. Since the creepy boogeyman would prey on families after they left the home wherein they encountered the deadly spirit and his celluloid reels of violent familial snuff, the deputy feels it is his duty to track down previous haunts of Bughuul and burn them down. But when So & So comes to an abandoned farm house in Indiana, he finds a mother, Courtney (Shannyn Sossamon), and her two young boys (Robert Daniel and Dartanian Sloan) living there. Courtney is in the midst of a vicious custody battle with her violent, abusive husband (Lea Coco). Now, So & So has to figure out a way to destroy Bughuul's hold on them before they leave or are forcibly removed from the farmhouse.
Children in horror films have long been used to creepy effect—but they can also veer a film into the opposite direction and completely ruin the ambience. Derrickson's original film had this same issue, losing quite a bit of potency once the sprightly ghosts of dead children begin to flit around. By comparison, that representation seems absolutely scintillating.
Dressed with such achingly cornball dialogue, it's shocking to realize original scribes Derrickson and Robert Cargill take screenwriting credit for this. "Come out, come out wherever you are," chirps the spectral child leader of dead kids as a family flees unbelievably from a lone pre-teen terrorizing them with a sickle while he operates an antique movie camera. But Foy never reaches the gripping depths of the original, instead depending on the hysterical heights you'd find in a campy redneck domestic drama. Likewise, the creators seem unable to address their own areas of discrepancy, since technically Courtney and her kids are holed up in a house next to a church where Bughuul incited tragedy (neither this proximity issue or why the church was targeted is not explained). As far as metaphors go, Joe Dante's 2009 film The Hole covers similar territory about patriarchal abuse and the confrontation of childhood fears much more effectively.
What actually makes Sinister 2 seem like a wasted opportunity are the effectively creepy snuff films Zach and Dylan are forced to watch—as inventively disturbing and chilling as they were in the first round (though making the kids set up a phonograph record to explain the diegetic music is a bit silly). Too bad absolutely no energy was spent on any details outside of this, with a sometimes Southern accented Shannyn Sossamon starring as one of cinema's most useless mothers inrecent memory, defending her kids from a cartoonishly bad dad with as effectively as a blinded mother hen.
Returning actor James Ransone, who provided the first film with a bit of weird comic energy, is mistakenly used as the focal point—those who are unfamiliar with Sinister will not only be lost in the vague explanations here (a wasted opportunity with a priest in a confessional booth could have effectively framed this sequel up, but appears instead to be useless fluff) but also perplexed by ex-detective So & So and his continual contortion of facial expressions. The overdependence on his character eventually has the same effect as an overuse of exclamation marks.
Ciaran Foy, whose 2012 film Citadel also deals with a troubled father protecting his kin in a ghetto high rise from feral children a la The Brood meets The Raid, seems lost in this adopted material. Unfortunately, his name is now attached to a studio sequel about as appallingly futile as items like The Ring 2 (2005) or The Last Exorcism Part 2 (2013).
★/☆☆☆☆☆