Music Lets the People Come Together: Saulnier's Latest an Enjoyably Intense Thriller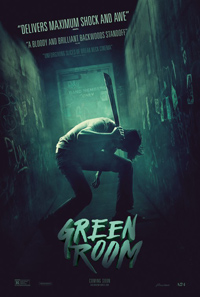 Director Jeremy Saulnier follows the promise of his 2013 breakout thriller Blue Ruin, an engaging and original treatment of a mysterious revenge/man on the run fun, with Green Room, a hyper violent and at times gruesome standoff film between a group of skinheads and a band of hapless hipster musicians. A film with intensely different intentions, preying on more primal fears in the wake of an enduring hatred, it bears the filmmaker's stamp, announcing himself with this third title as an increasingly inventive filmmaker of considerable unique tastes. Not to be loved by all, especially for those preferring Ruin's more episodic moments of violence, it is an enjoyable rarity, intelligently written and featuring a cast of notable young talents showcasing surprising prowess.
The indie punk band The Ain't Rights, currently on a less than enthusiastic tour through Oregon, find themselves ready to call it quits after being jilted after travelling to a venue only to see their show cancelled. Bassist Pat (Anton Yelchin) seems to be the unspoken leader, even though Sam (Alia Shawkat), the guitarist, seems to be the handler. Drummer Reece (Joe Cole) is the hotheaded heavy while lead singer Tiger (Callum Turner) seems to go with the flow. Already surviving the trip by siphoning off gas, they seem to be at a dead end. Offered a matinee show in return for a programming mistake from the booker, the band accepts the offer and find themselves performing in the backwoods for a group of skinheads. Upon this realization, they unwisely cover The Dead Kennedy's "Nazi Punks Fuck Off," though despite the tense atmosphere this engenders, the surly crowd lets them finish their set. Collecting their equipment, they accidentally stumble upon a grisly scene in the green room, and are ultimately held captive while the club owner Darcy (Patrick Stewart) decides what to do with them.
Not a beat is out of place in this violent opera of survival, breezing through insidious, even terrifying intentions from its vile antagonists. More importantly, Saulnier concocts a cast of largely expendable characters yet makes them memorable, creating fissures of dismay at each demise. And, in a genre that more often than not fetishizes or demeans its female characters, Saulnier crafts immensely enjoyable roles for two underrated (or sometimes underutilized) female performers, Alia Shawkat and Imogen Poots, women whose survival skills outmatch the wits of male peers.
Shawkat, often cast as comic support, is a definite stand-out here. But it's a formidable Imogen Poots, who walks away with the film, saddled with one of the year's more memorable fright wigs. Patrick Stewart is delectable as an incredibly intelligent and nasty neo-Nazi leader, and there are several moments that can actually be described in hyperbolized terms as 'bone-chilling.' But the less you know about these, the better.
Anton Yelchin, also a highly talented young actor, yet often misappropriated into some ill-fitting roles is rather likeable here, and Saulnier gives us a smattering of characterization quickly and effectively before throwing them into the lurch. Elegant in its swift execution, this is a 'simple survival of the fittest narrative'—but one that actually accomplishes what it sets out to do with potency to spare.
Reviewed on September 10th at the 2015 Toronto International Film Festival – Midnight Madness Program. 85 Mins.
★★★½/☆☆☆☆☆