Trudge Match: Peter Segal, Cashing Checks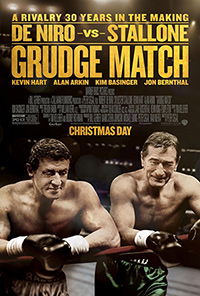 At the end of the day, Peter Segal's latest directorial effort, Grudge Match, may not be the felonious stink bomb as all signs would seem to indicate, but it most certainly is one jaundiced miasma of rote clichés, segmented together with robotic certainty. On the bright side, rather than formulate another Rocky entry or terrorize us with Raging Bull deux, screenwriters Rodney Rothman and Tim Kelleher at least attempt a new amalgamation of pop culture kitsch with its union of Stallone and De Niro. But with the lead performers' own dubious reputations for sub-par material working against them, along with a narrative that's either sputtering along on autopilot or asleep at the wheel, the result is a lackluster gimmick, an instantly forgettable malaise cashing in on preceding run-of-the-mill sports folklore.
Thirty years ago in Pittsburgh, a fierce rivalry between local boxing rivals Billy "The Kid" McDonnen (Robert De Niro) and Henry "Razor" Sharp (Sylvester Stallone) put them in the national spotlight, each scoring a victory against the other. But their contentious rivalry went into a tailspin when, on the eve of their third fight in 1983, Razor announced his surprise retirement without explanation, leaving his opponent to be forever chomping at the bit to resume the rivalry. It turns out, a woman, Sally Rose (Kim Basinger), was the cause of the snafu. Now, the son of an infamous boxing promoter, Dante Slate, Jr. (Kevin Hart), has offered the rivals the chance to settle the score and re-enter the ring. Reluctant to do so, but in need of funds to pay for nursing care for his ailing friend and former trainer, Louis "Lightning" Conlon (Alan Arkin), Razor agrees, and the two codgers are off to train, reuniting them with Sally Rose, whose son, BJ (Joe Bernthal) has recently discovered the identity of his father. Bets are either on or off, depending how you look at it.
Despite the similarity in age (De Niro is slightly older, having just recently reached septuagenarian status), Stallone and De Niro look remarkably different, with De Niro looking like a naturally grizzled old man while Stallone's visage screams surgical repair. That said, De Niro, even after an extensive 'training' portion of the narrative, hardly seems to be realistic competition for the enhanced Stallone, which, of course, calls for a third act surprise. But not before opening with CGI enhanced fight scenes where their faces are both obnoxiously transposed onto some boxing footage. The effect is distracting and disconcerting.
Unfortunately, Grudge Match plays like one more demeaning parade of tomfoolery for its baby boom matinee idols. De Niro and Alan Arkin are hardly strangers to the growing trend of geriatrically groomed soft cinema (Last Vegas, and Stand Up Guys, respectively), offered as a welcome counter to the testosterone laced big budget bashes that proffer enjoyment for the adolescent minded, even as they are written to be equally adolescent. While Stallone seems to have spent his resurgence in continuing his classic franchises and fostering a new one, time has not seemed to have improved his ability, his performance a rehash of any number of past vehicles, another handcrafted role that attempts to enhance his assets, though none are on display (at least something like Bullet to the Head felt like a modest attempt at something different).
As Grudge Match toils along, it further divorces itself from reality, disappearing quickly into a formulaic gear of reunion/conflict/resolution. A notable supporting cast feels even more woebegone, with boxing promoter Kevin Hart relying on his usual little man shtick, while a luminous and absolutely gorgeous Basinger plays a dizzy blonde who we're supposed to believe was head over heels about the two doofies she's caught between here.
Lastly, there's Joe Bernthal playing the progeny of Basinger and De Niro, coined BJ merely for a running gag about what the initials stand for. He's saddled into a serviceable composite here, but check him out for a much better supporting role in Scorsese's The Wolf of Wall Street, opening on the same day. In a world of low bars, Grudge Match may not snag a spot on many worst of the year lists, but considering the talent assembled in front of the camera, it certainly doesn't manage to rise to any sort of occasion as anything more than something to fritter away your time.
★/☆☆☆☆☆