Like it's 1999: Ruizpalacios' Sprightly Directorial Debut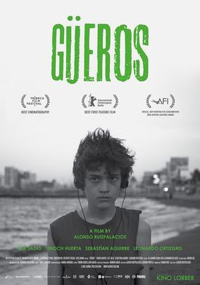 There's something in the air of Alonso Ruizpalacios' directorial debut, Güeros, a beautifully shot period piece examining a particular moment in time in a familiar coming-of-age package. Playful in a way that's earned the director comparisons to the early works of fellow Mexican auteur Alfonso Cuaron, particularly 2001's Y Tu Mama Tambien, you may not remember the particulars of the mise en scene here, but the film is a vibrant string of inspired visuals significantly enhancing the kind of narrative we've seen done to death across a multitude of cultures. But Ruizpalacios displays a unique mastery of cinematic language, and his impressive film marks him as a director to keep an eye on.
We meet thirteen year old Tomas (Sebastian Aguirre) as he drops a water balloon off of a roof onto a distressed mother. Briefly guilty for his mayhem yet ultimately unaware of the consequences of his actions, these antics have taken a toll on his harried mother, who packs Tomas off to Mexico City to live with his older brother Sombra (Tenoch Huerta), a university student. Sombra lives in mild squalor with a roommate, siphoning electricity from a tenant living below, avoiding participating in the current student protest going on against the school administration. Learning his favorite 60s singer Epigmenio Cruz is languishing somewhere in a Mexico City hospital, the trio take off in search of the mysterious figure, a man who once made Bob Dylan cry, picking up Sombra's love interest, Ana (Ilse Salas), a DJ very much invested in the current crisis.
Güeros is a word to describe native Mexicans with lighter skin, a differentiation that marks its main quartet as objects of derision as they navigate Mexico City. Customary class and racial disparities resulting from social attitudes regarding lighter skin tones (something hardly unique to the culture at hand in Güeros) are only moderately examined, viewed simply as a necessary cross to bear for those in question. Instead, Gueros feels very much in the spirit of the aimless rebellion rhetoric of the 1960s, something fostered by the kids' fascination with a fictional folk singer who was a contemporary of Bob Dylan's. Playing like a road movie relegated to the confines of finite roadways, they may not be rebels without cause, but they're certainly aimless and undefined, a distinction shared with the film's slight narrative.
Vaguely, we come to understand it to be 1999 and in the midst of a strike going on with the National Autonomous University of Mexico spurred by the institution raising the cost of tuition significantly. But the real star of the show happens to be Damian Garcia's black and white cinematography, filled with a number of arresting visuals continually jumpstarting a plot often too elliptical for its own good.
Plumes of cream bursting through coffee rival the likes of Two or Three Things I Know About Her… (1967) purely in its particular meditation on the inherent beauty present in the most banal of moments or activities. And aural cues are equally playful, tuning out the imaginary tracks of the fictional folk singer so we focus on the character's consumption of it, while Ruizpalacios plays with other singular cues to distract or guide our focus deliberately.
★★★/☆☆☆☆☆