Bodies Bodies Bodies | Review
On Body and Storm: Reijn Uncovers a Snake Pit of Wealthy Frenemies in Social Satire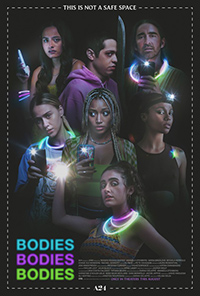 It's Agatha Christie spliced with the frivolous escapism of social media in Bodies Bodies Bodies, the sophomore feature and English language debut of Dutch director Halina Reijn. Penned by Sarah DeLappe, from a story by Kristen Roupenian, a metaphorical and literal tempest strikes down a pack of venomous, vacuous elitist progeny both connected and damned by their economic privilege. Straddling the grey zone of millennials and zoomers, whose camaraderie has crystallized into hatred beneath a thinly veiled facade of friendship, its satirical shades and drug-infused meta-commentary on self-obsessed twenty-somethings who've seemingly inherited the wind in conjunction with their trust funds is often entertaining but not quite as smart or mischievous as it could be. Misanthropic audience members will surely revel in the eventual nasty and naughty adolescent revelations which arrive like a gale force in the third act, but there's ultimately nothing compelling enough to break through the wan apathy for characters whose vapidity invites, if not justifies, their ironic demise.
A group of wealthy young-ish adults converge on the isolated mansion of David's (Pete Davidson) parents for a hurricane party, mocking the ravages of Mother Nature in their birdbrained bacchanalian. A surprise last minute guest arrives in the form of Sophie (Amandla Stenberg), David's best friend who disappeared after being forced into rehab several months prior. She brings her new girlfriend, the working class foreigner Bee (Maria Bakalova), sparking immediate competition with her ex-lover, Jordan (Myha'la Harrold). Added to the mix is David's aspiring actress girlfriend Emma (Chase Sui Wonders), the dunderheaded Alice (Rachel Sennott) and her older boyfriend of two weeks, Greg (Lee Pace). As the storm descends and they're driven inside, they engage in the titular game where one of them plays a killer and tries to metaphorically murder everyone else until someone can guess who it is. But when the game quickly sours thanks to David's disdain for Greg, the revelry is paused. David is discovered with his throat slit and the remaining posse find themselves engaged in a violent reenactment of their game.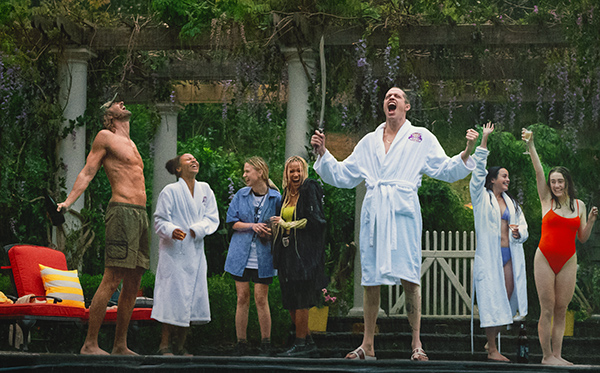 Reijn, who began her career as an actor (a supporting role in Verhoeven's Black Book assisted in netting her co-star Carice Van Houten to headline her 2019 debut, Instinct), grasps a bemused tonality which is often entertaining. Since every visual detail ends up being utilized for later revelations confirming none of these characters truly care for each other beyond the limited satisfaction derived from competitive posturing, Reijn's narrative takes some time to settle. While it isn't inherently necessary to make any of these characters likeable, there's also nothing innately compelling about any of them until a third act tirade between Sophie, Alice and Jordan finally blasts through their tiring, sneering veneer. Much like Leslye Headland's Bachelorette (2012), the retracted claws finally come out to reveal a snarling, angry abyss of emotional sabotage between friends who hate and despise one another. A surprising turn from Amandla Stenberg (The Hate U Give, 2018) arguably does allow for a certain semblance of empathy despite her despicable behavior, but she's the only character revealing a desperate, internalized turmoil for us to grasp onto, like a makeshift raft one snags in deadly rapids headed for a cliff.
If Clue (1985) comes to mind, so does The Big Chill (1983) in this drug induced escapade of meta paranoia spliced with exaggerated stereotypes. Rachel Sennot's (Shiva Baby, 2020) Alice might walk away with all the comedic beats, but she's also a caricature. A promising Lee Pace burns out before he has a chance to provide any real intrigue, while Pete Davidson is, once again, ill-suited in a milieu demanding intricate dimensions of characterization. Bakalova is supposed to be our conduit for empathy, but she's never allowed any real agency to employ it in a performance torn from the same page as Judd Apatow's The Bubble (2022), the Bulgarian drama Women Do Cry (2021) and her Oscar nominated turn in Borat Subsequent Moviefilm (2020).
A fitting score from Disasterpeace assists DP Jaspers Wolf's (Monos, 2019) claustrophobic nighttime interiors, even though the dimensions of this isolated patatial estate don't seem to entirely make sense. For a film about a morbidly inclined party game becoming the narrative reality, Bodies Bodies Bodies should have a stronger bite and a more venomous aftertaste than what proves to lead to the most logical conclusions for calm and clear headed viewers. Still, as an exercise commenting on the toxicity of elitism hellbent on mirthfully decimating its spoiled, unlikeable characters like the inevitable collateral damage of detachment, Bodies Bodies Bodies is often entertaining if you're prone to schadenfreude.
★★★/☆☆☆☆☆