Reviews
Here Comes the Devil | Review
Lock Your Souls Up: Bogliano's Latest a Decent But Frayed Exercise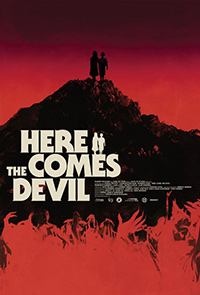 Adrian Garcia Bogliano's tenth feature film, Here Comes the Devil finally shows the Argentinean horrormeister beginning to hone his craft to create something that at last contains some cinematic virtue. Perhaps it helps that he has left his native country for Tijuana, Mexico to tell this devilish tale of the supernatural. Although it appears to have been shackled together and definitely would have been better served with some better editing, acting, and reshoots, there's a promise here of something more defined, and, all squabbles aside, the film is entirely watchable.
Shuddering us into an exploitative lesbian sex scene, all loud and brassy before quickly making way for some bloody violence, the gears are quickly switched to a more languid pace as we meet a family on a trip to Tijuana. Sol (Laura Caro) and Felix (Francisco Barreiro) stop at a roadside gas station and let their pre-adolescent kids, Sara (Michele Garcia) and Adolfo (Alan Martinez) run off to explore in the hills while mom and dad get freaky in the car. Hours later, when the children have not yet returned, Sol and Felix go to the police and spend a distraught night worried in a hotel. The next day, Sara and Adolfo are discovered, but it's clear that something strange has happened to them. Convinced the children have been sexually abused by a creepy man that had been eerily eyeing Sara's blood-stained underwear (she'd had her first period), which are now missing, Sol and Felix attempt to seek their own retribution. But as more time passes, Sol discovers that the children have been skipping school, and following them one day, discovers they are wandering into the hills. Ensuring the kids aren't able to leave school on one occasion, Sol herself wanders up into the hills herself, only to make a terrifying discovery in which she finally begins to see what happened to the children.
Bogliano, at last, manages to show remarkable restraint in the proceedings, with Here Comes the Devil recalling some great genre art house efforts from decades past. However, recall is the key word here, because too often the film looks like it was a bit of a rush job, and in more ways than one. While Caro and Barreiro do a decent job, the child actors and some of the other bit players feel amateurish and distracting. Likewise, camerawork from his regular cinematographer Ernesto Herrera comes off as laughable, with distracting and unnecessary zooms at questionable moments. Compared to other Bogliano titles, like the wretchedly cringe worthy 2010 Cold Sweat, his latest proves that there's a director with interesting ideas concerning the genre somewhere in there. Though he already has a following, perhaps Here Comes the Devil will be the title that at least elevates him to something with higher production value and a more finely tuned scope.
Reviewed on September 11 at the 2012 Toronto International Film Festival – VANGUARD Programme.
97 Minutes