Period of Adjustment: Janiak's Eerie Relationship Chiller a Provocative Debut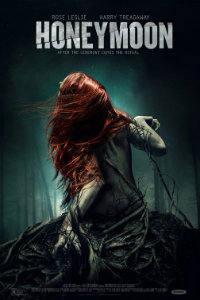 Weirdly unsettling, Leigh Janiak's directorial debut, Honeymoon, is one of those rarely effective offbeat psychological thrillers, utilizing a simple premise and indie framework for maximum potential, the kind of film whose bizarre pleasure are few and far between. Those seeking the kind of material that dares to go to strange extremes should take note. Surprisingly effective given that it begins like any number of indie films concerning two people that should have gotten to know each other better before plunging into marriage, Janiak's film moves swiftly from allegory to all-out bizarreathon.
Recently married newlyweds Paul (Harry Treadaway) and Bea (Rose Leslie) have chosen to abscond to Bea's family cabin, a perfect, isolated setting in the off season. It seems this was a rather hurried affair, both of them still leery about being honest about little things here and there, smoothing over all to bask in their celebratory moment. But things get weird after a strange incident with a man that runs the nearest local restaurant, Will (Ben Huber), who turns out to be a childhood friend of Bea's. There's obviously something unnerving about Will's relationship with his withdrawn wife, Annie (Hanna Brown). His behavior toward Bea is a bit off-putting as well. Shortly after this, Bea experiences a sleepwalking experience, and it seems someone with a flashlight keeps looking in their bedroom window in the middle of the night. At the same time, Bea starts acting like a completely different person.
As things get increasingly weird and discomforting, Honeymoon really starts to pick up an amazing amount of traction from what begins as a rather formulaic scenario about two young lovers isolated in the woods where, surprise, scary things happen. A pronounced sexual component vividly impacting the couple's interactions, paired with the lakeside locale brings to mind a kind of heterosexual cousin to Stranger By the Lake, where comfortable, intimate interactions collapse into terror. In fact, it's Paul's aggressive sexual advances, an act of overcompensation, as if he means to claim ownership, which first sets them down their interminably awkward path.
But this is no mere battle of the sex's drama, and it's evident that the unbalanced Bea is being affected by something more insidious than an extramarital tryst in the woods. Deftly exploring the notion of losing oneself (To Bea or not to Bea, indeed) during the comingling of identities that is the hypothetical notion of marriage, Honeymoon dips into some more pronounced areas of sci-fi body horror—there's a definite cringe worthy scene toward the end that certainly elevates something you'd find more at home in B-Euro genre fare like Baby Blood (1990) or a little known US nasty about a Filipino vampire, Aswang (1994). But just how it ends up doing this would be unfair to spoil ahead of time.
Oddly enough, a pair of UK actors headlines the film, though you'd hardly know it unless you're familiar with them. Treadaway should be rather recognizable as he's appeared in several notable films, including Fish Tank (2009) and Control (2007) – though many may confuse him with his twin brother Luke. Rose Leslie's a known presence for her presence in "Game of Thrones," and "Downton Abby," and she has the pleasure of being in the flashier role here.
Not without a certain element of dark humor (as when Paul accidentally overhears Bea rehearsing how she's going to excuse herself from sex, or sexy times on a boat ride that get weird very quickly), Honeymoon is a fun ride, even if its final moments may disappoint those wishing for an even more obscure end.
★★★/☆☆☆☆☆