World War III | 2022 Venice Film Festival Review
War & Fleece: Seyyedi's Swiftly Shifting Satire Explores the Corrupting Nature of Power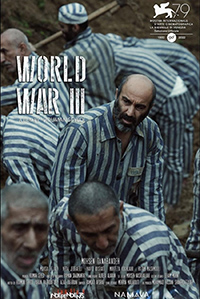 In one of the most unromanticized depictions of the filmmaking process, Iranian director Houman Seyyedi's latest film, World War III is a slippery wonderland of competing forces. Initially a darkly satirical exploration of exploitation filmmaking as well as a castigation of working conditions in the Iranian film industry, Seyyedi takes off the comedy gloves for a grueling third act exercise in anguish and tragedy for a main protagonist who's unwisely lived with his heart on his sleeve.
Both sharply conceived and agonizingly performed, Seyyedi, who has previously peddled in cultural degradation with his previous film Sheeple (2018), presents a hot blast of social issue semantics defined by a direct conduit with a criminal underbelly often downplayed significantly in modern Iranian cinema.
Shakib (Mohsen Tanabandeh) is a homeless day laborer who scores an opportunity to secure work at a construction site, taking the job reserved for a relative of a current employee. The site turns out to be the massive film set for an increasingly complicated film about historical despots, leaving Shakib to freeze by night in an uninhabitable part of the set he's hired to guard and then working by day in the kitchen. When it appears their actor slotted to play Adolf Hitler is unavailable for a portion of the film reenacting the holocaust, Shakib turns out to be the perfect likeness of the infamous tyrant, which opens up immediate doors for him.
Moving into a more comfortable sleeping space, he's suddenly visited by Ladan (Mahsa Hejazi), a deaf-mute prostitute Shakib (whose own mother was deaf) has developed feelings for after his wife and son died in an earthquake several years prior. Ladan sees Shakib's new job as an opportunity to escape her violent pimp. Hiding her beneath the floorboards of the set, Shakib is thrust into an impossible situation in maintaining his availability on set while trying to placate Ladan's 'owners' who know she's there and demand Shakib pay her debts to secure her freedom. While he scrambles to come up with an exorbitant amount of cash in less than 48 hours, tragedy strikes when the building Ladan's hiding in is detonated by the film crew during a scheduled sequence in the film.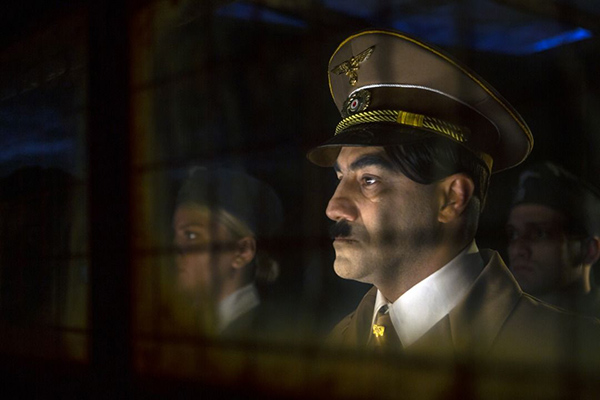 The narrative hinges exclusively on the performance of Mohsen Tanabandeh as Shakib, an affable laborer who likely never recovered from the loss of his wife and son. Like a Kiarostami figure injected into the perilously shifting social hierarchies of Farhadi's urban melodramas, Shakib is a veritable innocent corrupted by his surroundings thanks to a life changing opportunity whereby playing Adolf Hitler, of all things, will likely bring him fame and glory.
Although the production of the film in the background of World War III seems suspiciously miscalculated and almost assuredly a camp classic in the making, the karmic ripple effect on Shakib is both swift and horribly detrimental. Ambiguity about Ladan's potential intentions towards Shakib (as well as her dubious survival) also denies any sense of catharsis for either Shakib or the audience, and the escalating tensions explode into spurts of violence and chaos.
Seyyedi's underlying theme in World War III is the tenuous stability of the world around us at any given time, where resentment and misgivings are always just at boiling point. But there's also no real salvation for Shakib, whose love and devotion, whether it's reciprocated or not, blinds and binds him.
The multiple layers of irony regarding how the reenactment of historical horrors only serves to pervert the good intentions of its makers is complicated by Shakib's involuntary 'performance,' cementing the creation of a new breed of monsters, those who gamble away the last vestiges of their humanity for something that never existed. Tanabandeh's descent into Shakib's mental maelstrom is distressing, and there's a trenchant sense of hopelessness in World War III which makes it challenging but completely captivating as a meta cinematic exercise.
Reviewed on September 10th at the 2022 Venice Film Festival – Horizons. 107 Mins.
★★★★/☆☆☆☆☆