There's No Place Like Home; Macdonald Pulled By Too Many Strings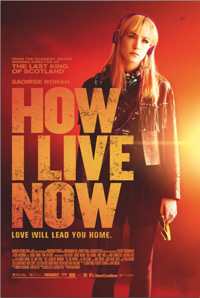 This polished as his docu-work, Kevin Macdonald's fourth fiction feature is a little bit of a head-scratcher. As a war film set in the near future, where the enemy is unknown and adolescents must adapt to their war-torn environment without any adults to guide them, it succeeds. As a sweeping star-crossed love story wherein its teenaged heroine is guided by a telepathic passionate connection to her heart's desire and must find a path back to him, it also succeeds. The key drawback with How I Live Now, however, is that it so desperately yearns to be both, and flails as a result.
Following the blockbuster success of the Twilight franchise, studios ravenously picked up the film rights to every mildly successful dystopian teen novel ranging from the Hunger Games trilogy to the upcoming Divergent series. Last spring, however, brought Stephanie Meyer's The Host to the screen and its scathing response by critics and poor reception at the box office have left pundits questioning what exactly went wrong. A film based on the prize winning young adult novel by Meg Rosoff published years prior to Meyer's tome, appears to be a direct copycat of The Host on the surface (and not only because both film adaptations star the ethereal actress Saoirse Ronan). Both films center on an independent intense young woman battling an inner all consuming voice and outer looming war but finding solace in the arms of a brooding yet comforting young man (here played by the hulking George MacKay).
As novels, The Host and How I Live Now worked because their respective readership could follow the sustained voices in their heroines' heads (that of alien Wanda in The Host and Daisy's own insistent survival-centric internal voice in How I Live Now). Their teenaged angst, exacerbated need to live in the now, and misunderstood emotional flip-flopping are fleshed out easily in written form, while one can only watch a sulky teenaged girl on screen for so long before one's own mind starts to wander. Thankfully, both film adaptations were rescued to an extent by the captivating performance of their shared young leading lady.
Ronan has developed over the course of her filmography, from a determined troublemaker child Briony in Atonement to the eponymous ass-kicking tween Hanna (whose character paved the way for the Katnisses of current cinematic offerings for the teen crowd), to the violent yet compassionate Daisy in Violet and Daisy, all the while enchanting audiences in each role with her piercing, knowing blue eyes, reminiscent of the equally hypnotizing Cate Blanchett. While her film choices have sometimes been puzzling, as with last year's Byzantium and the aforementioned The Host, she is consistently the most compelling reason to watch them all. Newcomer Harley Bird, playing cousin to Ronan's lead character Daisy, is also a revelation to watch. Her character's arc from precocious tyke to hardened young adult whose physical and mental suffering is heartbreakingly felt in her mature performance, recalls her costar Tom Holland's (disappointingly wasted in this film) award winning performance in last year's The Impossible.
Cinematographer Franz Lustig beautifully captures the rustic rural English countryside and scenic woods in which most of the film takes place and the film always feels grounded in a potential future reality. Central character Daisy spends the majority of the film wrestling with her dueling voices but eventually she finds her own true voice. How I Live Now, however, does not. In the end it falls apart due to its implausible conclusion (wholly straying from the source novel's finale) and never quite being able to capably balance between a war film and a tender love story, which may have to do with the trio of diverse scribes (Jeremy Brock, Penelope Skinner, Tony Grisoni) listed for the project.
Reviewed on September 10 at the Toronto International Film Festival – Special Presentation Programme.
101 minutes.