Happy-Go-Lucky: Locy's Odd, High-Spirited Portrait of a Scam Artist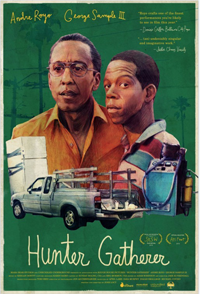 A mere glance at the extensive list of executive producers (which includes David Gordon Green, Jody Hill, and Danny McBride) on Josh Locy's directorial debut Hunter Gatherer should give a clear indication of the film's particular tone. Andre Royo (who took home a Best Actor award following the film's premiere at the 2016 SXSW Film Festival), a notable character/supporting actor from "The Wire" and "Empire," masters the spotlight in this distinctive portrait of an ex-con desperate to get right back where he started from. Reminiscent of earlier Green titles (Locy was his art director on Prince Avalanche and Manglehorn) and the coercively unsentimental power of Charles Burnett's (including his protégé Bill Woodbury's solo feature) portraits of South Central Los Angeles, it's a fine tuned, manifold character study with complex shades of comedy and quiet agony.
Upon his release after serving a three year prison sentence, Ashley (Royo) is eager to resume the life he once had, which includes reclaiming his girlfriend, Laura (Ashley Wilkerson). But she's moved on to another relationship with garbage man, Dwayne (Antonio D. Charity), which only motivates Ashley to win her back by hiring a tutor to enhance his limited reading and writing skills thanks to a stunted, elementary school level education. Tasked with removing his mother's old refrigerator, he discovers a complicated scheme to dispose of the bulky appliances and make a profit. When he corners a simple, kind-hearted stranger, Jeremy (George Sample III) for the use of his truck, he also begins a relationship with the young man's aunt Nat (Kellee Stewart), who is told Ashley loves someone else but she can live with him at his mother's. But when Ashley begins collecting random refrigerators in his mother's yard, he's evicted, leading Nat to secure them a spot at Ray's (Kevin Jackson) hotel, a man who aims to make Nat his even though she seems intent on winning over Ashley.
Obviously, it's easy to relate to the frustration of those around Ashley, whose needs or desires are thwarted by the beams of his inflated ego and an overly determined agenda populated with unrealistic goals. He's an amusing character of optimistic exaggeration, and sort of recalls the perverse potential of Sally Hawkins' effortlessly buoyant breakout from Mike Leigh's Happy-Go-Lucky (2008), but Locy slowly peels away at his delicate façade to reveal a discernable, ragged vulnerability. Infrequent asides of visual fantasy sequences assist in giving shape to a metaphysical side of Ashley, and these moments break from the Jon Aguirresarobe's richly detailed, sun dappled compositions of South Central divorced from the squalid drama usually associated with narratives confined there.
Royo's performance as Ashley is made all the more intensely memorable thanks to the quietly, eventually potent dynamic with relative newcomer George Sample III (Cronies, 2015). Locy highlights exploitation in intriguing ways through both characters. Soft-spoken Jeremy has agreed to volunteer as part of a medical experiment involving wearing electrochemical patches as way to finance repairs for the dilapidated respirator keeping his grandfather alive. Ultimately, and ironically, the very system designed to have the opposite effect leaches Jeremy of his health because of inadequate data from black participants.
Intriguingly, Locy never explains why Ashley was locked away for three years, but his new, (albeit legal) hustle seems less invasive, and yet he's also a victim to his own inventive schemes. Women in his life are either goals or objects, and it's not difficult to understand why both his mother and ex-flame Linda (his face-off with her new beau recalls the bitterness between male rivals in Scott Cooper's Out of the Furnace) are so dismissive. But Locy compounds a sense of heartbreak regarding his liaison with Nat, a woman void of agency, whose existence depends on the kindness of the men in her life. A passage about settling for the partner one can obtain versus the actual object of one's desire is trenchantly sardonic, but stated with such a mixture of innocence and conviction we can taste the numbed despair of her character.
As Locy hurtles these wayward stragglers towards the precipice of despair, Hunter Gatherer ascends to an unexpected eloquence in its final moments, a poignant elevation from the draconian designations heralded by its title.
Reviewed on March 15th at the 2016 SXSW Film Festival – Narrative Competition. 90 Mins.
★★★/☆☆☆☆☆