Reviews
Billy Lynn's Long Halftime Walk | Review
Walk the Line: Lee's Technological Prowess Yearns for More Than Earnest Wartime Narrative Can Deliver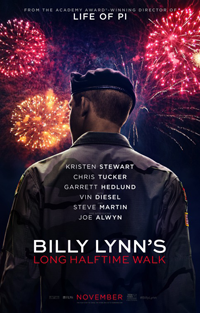 For his first venture since 2012 Oscar winner Life of Pi, Ang Lee embarks on another outsider perspective, this time a curious technological experiment on the aftershocks of wartime amongst US troops in Billy Lynn's Long Halftime Walk, an adaptation of Ben Fountain's novel. More impressively than its subject matter is Lee's decision to shoot the film in 3D at 120 frames per second, a technological feat used to mixed effect by Peter Jackson with his first installment of his The Hobbit trilogy back in 2012. This creates a rather distracting aura of detachment from the emotionally charged story, which contends with its 19 year old titular character returning home to face his family while grappling with his feelings about a highly publicized hand-to-hand combat incident earning him hero status but claiming the life of a beloved commanding officer. Emotionally compelling, but eventually undermining its own sincerity with some clunky interactions and stilted dialogue too hurried to subtlety embolden all its points, this is another project from Lee which seems to compromise its integrity in favor of overtly stylized (and often unnecessary) visualization.
Billy Lynn (Joe Alwyn) has become a poster child of the war in Iraq after the media gets hold of cell-phone footage showcasing the soldier coming to the aid of the wounded Sgt. Shroom (Vin Diesel), engaging in hand-to-hand combat with the enemy to drag his commanding officer out of the line of fire. While Shroom didn't survive the onslaught, Lynn's heroism has allowed his troop to be invited an a two-week victory tour back home, wherein they will perform as back-up for Destiny's Child at the 2004 Dallas Cowboys' Thanksgiving halftime show. Their manager (Chris Tucker) assures them a major motion picture deal based on Lynn's actions is on the horizon, while their commander, Sgt. Dime (Garret Hedlund) does his best to keep the men in high spirits. Originally from rural Texas, Lynn uses the opportunity to reunite with his family before beginning his next tour, including his mournful sister (Kristen Stewart), who feels responsible for her brother's decision to serve his country. While grappling with the recent horrors he's survived, Lynn struggles to relate to his colleagues appropriately as they're ushered into the pomp and circumstance during halftime, but a flirtation with one of the cheerleaders (Makenzie Leigh) manages to be a welcome distraction.
At times, it would seem our unconditioned response to the fps speed assists in a negative reaction to the film's visuals, assuming a semblance of cheapness, as if we're watching a poorly photographed television production—until we realize this actually delivers an astounding enhancement in visual clarity, only we're just not used to viewing humans move on screen at these speeds. The novelty eventually wears off and we become a bit more invested in poor Billy Lynn, and Jean-Christophe Castelli's (making his screenwriting debut) script, at first awkward, settles into a comfortable rhythm of machismo bonding. However, this always feels like a nicely modified version of a theatrical production, even with a sound design of masterful triggers and cues, and the finely edited color codes of Lynn's internal fantasies and winnowing escapes into an atrocity he's desperate to bury deep. But the curious visual choices and limited location is reminiscent of Robert Altman's Streamers (1983), an adaptation of a David Rabe's play concerning gay and race issues amongst Vietnam soldiers, with a dash of Tim O'Brien's novel The Things They Carried, an examination of male bonding and subsequent tragedy navigated by objects and motion rather than dealing bluntly with war trauma and its aftereffects so obviously at hand.
Credit is due to most, but not all of Lee's significant cast. Newcomer Joe Alwyn crafts a laudable performance, but he's often undermined by some severe schmaltziness, especially with the repeated intrusion of an embarrassingly rendered romance with Makenzie Leigh's overly eager Southern Belle teenager (can you imagine how someone like a young Jessica Lange could have dragged this into a hyperbolized, hyper sexualized Southern Belle portrait?). More interesting are Alwyn's shared sequences with Kristen Stewart, if mostly because of things evidently left unsaid between the siblings (Lynn's reason for joining the army reeks of dangerous familial dysfunction left teasingly unexplored). Stewart, once again, proves to be adept as a melancholy supporting accent, a bereaved family member who might as well be Laura from Tennessee Williams' The Glass Menagerie, an introverted woman hobbled by her post-accident fleshly deformities.
In many ways, the sentiment of Billy Lynn's Long Halftime Walk recall a variety of anti-war items from the post-Vietnam era, and the emotional core isn't too far off from the likes of Hal Ashby's classic Coming Home (1978). Nestled in such a particular moment, defined by an event recalling not just political ideals but pop fashion (the repeated reference to Beyoncé, who performed at the halftime show as part of Destiny's Child is amusingly visualized from behind, the group defined only in silhouette, a collage of sultry outfits and exaggerated, bouffant wigs).
Chris Tucker, in a rare on-screen appearance, is wasted here, merely a stereotype of the entertainment industry as a manager uncomfortably filling the men's heads with fantasies, name-dropping Hilary Swank (who during this period was poised to snatch her second Academy Award) as an interested Hollywood entity in Lynn's topical travails. Hedlund, on the other hand, gives a masterful supporting performance as Sgt. Dime, and walks away with some of the most potent exchanges.
Although Vin Diesel's name hardly conjures the essence of a poetry reciting Buddhist who insists on telling each member of his troop he loves them shortly before going into battle, Lee goes out a limb by allowing the performer to gracefully extend his range. Despite some distraction, Diesel manages to be efficiently meaningful in his brief moments on-screen, which is more than can be said for a smarmy Steve Martin, owner of the Cowboys and serving us greedy businessman caricature to stand in as a convenient bad guy. Ambitious in its conception, Billy Lynn's Long Halftime Walk is ultimately as awkward as its title—a bit clunky and corny, but sincerely intent on providing a realistic portrait of wartime causalities, both during and after battle.
★★★/☆☆☆☆☆