Scavenger's Song: Johnson's Chilling, Stylized Sophomore Feature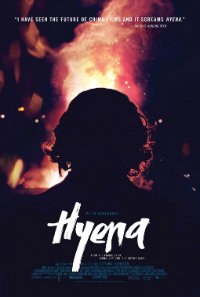 Opening with a brooding, atmospheric ambience as we drift through a throbbing drug bust set to an electric synth score, Gerard Johnson's exciting sophomore film, Hyena, recalls early 80's efforts from the likes of Abel Ferrara or Michael Mann, an exciting concoction of style and tone overlaying familiar narrative tropes. Though the film doesn't quite maintain this level of elation, dipping into a customary groove that reveals little outside of the inevitable consequences that accompany the actions we see here, Johnson proves to be a promisingly abrasive new voice coming out of the UK. Utilizing the talents of DoP Benjamin Kracun (For Those in Peril, 2013), and bringing along composer Matt Johnson and editor Ian Davies from his 2009 debut, serial killer film Tony, the end result is an unsettling nightmare sporting an arresting energy often absent from trajectories so recognizable.
Michael Logan (Peter Ferdinando) heads up a crew of crooked cops, including his chummy cohort Martin (Neill Maskell), working with a group of Turkish gangsters on a variety of illegal activities, including drug trafficking, etc. But Logan's Turkish contact is slaughtered right before his eyes, which sets off a tailspin of events. An internal affairs investigator (Richard Dormer) is gunning to take Logan down, while an old rival of Logan's, David Knight (Stephen Graham), is charged with heading up an investigation into the group of Albanian thugs Logan's been consorting with. Managing to get assigned to Knight's team in order to keep tabs on Knight's investigation, this ends up being a foolhardy move for Logan, as the bad blood between them has not dried up. Meanwhile, his relationship with the Albanians is exacerbated due to their abuse of a young woman, Ariana (Alisa Lasowski).
A handful of sequences utilize violence quite effectively, including a bit early on when Michael witnesses a murder. The action happens while we're hidden from view with Logan, and this somehow makes the sight of the grisly remains all the more disquieting. The setting and conflict seem to hail from a timeless realm, which perhaps spurs the internal affairs investigator to comment "But this isn't the 80's" in reference to the cocksure Logan's attitude. In many ways, the narrative recalls Ferrara's Bad Lieutenant or the grittiness of Fear City with its nihilistic exploration of high level corruption in law enforcement.
A cast of notable and recognizable British talents are led by an excellent Peter Ferdinando (A Field in England), joined by other Ben Wheatley alums like Kill List's Neal Maskell and MyAnna Buring. Stephen Graham and Richard Dormer provide solid support, though beyond Ferdinando, the remaining cast tends to be on a sliding scale of corruption. The Albanian thugs are painted with less finesse, all a succession of brutal, misogynistic butchers responsible for most of the film's distressing moments of gory violence. Additionally, a tangent involving Elisa Lasowski's indentured Turkish prostitute is handled with the same familiarity, though Johnson takes her debasement a step further with a grotesque rape sequence.
Kracun spins several sequences into a fluorescent lit hell, and the seedy landscape inhabited by the wearied Ferdinando is exactly what generates a kind of sickly uneasiness about the film that lasts beyond the forgettable narrative. It would seem that Johnson ends on an abrupt note because there's simply no more floundering we need to witness, but it generates a certain unknown quality absent from the rest of the film.
★★★/☆☆☆☆☆