Marie Huertin, 1885: Ameris Recreates Obscure Instance for Familiar Biopic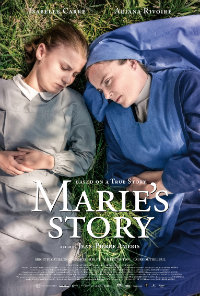 There's no avoiding comparison to the famous story of deaf and blind Helen Keller with Marie's Story, the latest film from French director Jean-Pierre Ameris, recounting the obscure tale of Marie Huertin, a Gallic contemporary of Keller's. At times touching, and certainly emotionally effective, this is a solidly performed film from Ameris. But our familiarity with this subset of 'disease' dramas, wherein the lives of real people, handicapped or ailing, are manipulated for emotional satisfaction, gives the film a routine feel. Particularly with the specter of 1962's The Miracle Worker looming in our memories, Ameris may be highlighting another compelling instance of human ability against all odds, but the emotional investment dwindles.
Born deaf and blind, Marie Huertin (Ariana Rivoire) is treated like a lost cause in 19th century France. At the age of fourteen in 1885, Huertin's parents begin looking for a place to send their child, but find that they're turned away from every institution outside of an asylum. When her parents bring her to Larnay Institute, a school for deaf girls operated by a serious but logical Mother Superior (Brigitte Catillon), the staff there isn't receptive. Marie screams, howls, and lodges herself into a tree. The kindly Sister Marguerite (Isabelle Carre) attempts to retrieve her, and their brief interaction has a pronounced effect on the nun. The more she thinks on it, the more Marguerite is convinced that it is her calling to help the girl, though her Mother Superior is opposed to the idea considering Marguerite's poor health. Of course, Huertin is scooped up by Marguerite, thus beginning a difficult journey wherein the sister must somehow break through these twin barriers in order to develop a system of communication with the young girl.
Ameris seems to try rather valiantly to eschew the general melodrama evident in American offerings of this ilk, which is successful until the emotional climax, when we've fast-forwarded through nearly all of Huertin's formal learning so we may witness her ability to deal with the abstract concept of death in order to say goodbye to Sister Marguerite. Music begins to play a larger part in the film as Marie's understanding of the environment around her expands, a move that recalls Tom Ford's A Single Man (2009), wherein color becomes vibrantly observed upon a character's impending demise. Paired with moving performances from newcomer Ariana Rivoire and an understated turn from Isabelle Carre (a superb actress that deserves a higher international profile), Marie's Story is certainly worthy of being told, even as it transpires predictably.
The relationship between these two women should serve as the driving force of the film, yet the jumps through time tend to make this feel hurried. Since it is apparently unimportant to reveal much about either of their lives prior to Huertin's stay at Larnay, their bond seems almost taken-for-granted by the film. Thus, one of the film's most emotive sequences comes quite late, involving Catillon's Mother Superior, coaching Marguerite and not Marie on how to let go.
The material seems an odd choice for Ameris, a director that's been making features since the mid 90s, recently scoring some higher profile notices for the rom-com Romantics Anonymous (2010), also featuring Carre in a pleasantly sentimental ditty, and an updated version of Victor Hugo's The Man Who Laughs (2012). Having premiered at the Locarno Film Festival, Marie's Story feels exactly the type of emotionally sound foreign language films that consumers of simple stories tend to lap up.
★★★/☆☆☆☆☆