Reviews
I Am Big Bird: The Caroll Spinney Story | Review
8 Feet Tall and Light as a Feather: Walker and LaMattina Chronicle the Life and Love of a Puppeteering Legend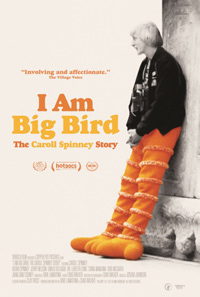 You'd be hard pressed to find someone who doesn't know Big Bird. Of the many beloved creatures that sprang from the genius of Jim Henson, Sesame Street's Big Bird may well be the most universally recognizable. Bearing the spirit of a child within the body of an 8-foot canary yellow behemoth, Big Bird became a larger than life icon of children's television. Yet, despite Caroll Spinney's famed collaborators and lengthy list of accolades that include Emmys, Grammys, and even a star on the Hollywood Walk of Fame, you may not recognize the lanky, mop-headed man who has brought the bird, as well as Oscar the Grouch, to life for the last 45 years. Following the success of Constance Marks's Kevin Clash bio-doc Being Elmo, directors Chad Walker and Dave LaMattina have pieced together a heartfelt tribute to the monumental puppeteer with their sophomore documentary feature, I Am Big Bird: The Caroll Spinney Story.
Obviously, a film about a famed muppeteer is going to delve into the origins of how Spinney was discovered by Jim Henson at a puppeteer convention in Salt Lake City back in '69, his early  television successes on shows like Bozo's Big Top and Judy and Goggle Show, his generally happy childhood sprinkled by bouts of bullying and fatherly disapproval, and how each of these events eventually led to the charactorial epiphanies that really brought Oscar and Big Bird to life. But before Spinney found his pivotal place in Henson's company, not happy with his second tier roles in the Sesame Street cast and amidst an emotionally devastating divorce with his first wife, he nearly quit. As the story goes, Spinney was on his way to Henson's office to put in his notice when the legendary, bearded muppet designer Kermit Love reminded him that the opportunity he had on hand was a once-in-a-lifetime kind of situation. Apparently, Caroll made the right decision, as things once again began to look up.
It's here that the film shifts from one Disney property to another, from Muppets to Cinderella. With his career on the ups and himself then again a bachelor, he began to casually pursue a young woman around the offices of Henson Studios. After several rejections, Caroll began seeing the new love of his life, Debra, his soon to be wife, trusty travel partner and faithful inspiration. Without their relationship, the film could not exist in its current form, overflowing as it does with archival material dating back to their earliest years together. After approaching the Spinneys about making the film, Walker and LaMattina were handed a treasure trove of self-documented adventures that span decades, from photographs to 8 mm reels, from the on-location shooting of the 1983 feature film Big Bird in China to private parties amongst fellow Muppeteers. The material imparts valuable insight into the Spinneys' life long romance, as well as just how much a part of Caroll's life Big Bird truly is.
As so many reverential family members and coworkers put it, Caroll is Big Bird and Big Bird is Caroll. Their spirits are one and the same. Outcasts since youth, they both were born to shine, solo. Walker and LaMattina have embraced this sense of being, lensing a portrait that celebrates the sense of wonder the man and his feathered alter-ego are lauded for. Unfortunately, they've cast a dour tone over much of the film with an overly sentimental score that monotonously just doesn't seem to stop, swamping much of the bubbly charisma their subject is known for. Adding to the tonal incongruities, the filmmakers occasionally cut to historical tangents such as the tragic murder of Judith Nilan or the Spinneys' reunion of his young Big Bird in China co-star, that, while holding contextual relevancy, feel structurally and emotionally out of place in the edit.
Despite these musical and editorial missteps, I Am Big Bird: The Caroll Spinney Story remains a warm, if light chronicle of a life fully lived by an artist who remains passionate about his chosen medium. The man continues working even now at nearly 80 years old, though acknowledges that someday not far off he'll be replaced by his patient understudy. Big Bird, however, his beloved child, will be adopted to live on for generations to come. For their part, Walker and LaMattina only add to the legend.
★★½/☆☆☆☆☆
Reviewed on April 28th at 2014 Hot Docs Film Festival – Special Presentations Program – 85 mins