In Space No One Can See You Steal: Espinosa Imitates another Celluloid Form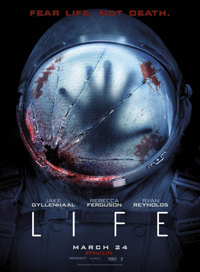 The vastness of space and the limitlessness of the universe are abstract, unfathomable parameters to comprehend. Too bad humans are, more often than not, incapable of expanding the narrative scope of their genre cinema to go boldly beyond boundaries already established as trite and familiar, at least judging from the latest sci-fi horror film Life, Swedish director Daniel Espinosa's third and least ambitious English language studio film to date. If you're familiar with the tropes of mankind involved in high-profile space missions, you'll know exactly what to expect when we're rushed through a quick introduction of a group of scientists tasked with rescuing a damaged probe containing priceless samples from Mars. Displaying a mind bogglingly derivative premise, and further outfitted with the tireless studio tradition wherein alluring actors blunder through meagerly written characterizations of scientific professionals (the kind who seem best at making the worst possible decisions under pressure), for a film determined to convey the vicious struggle for self-sustaining life amongst conflicting organisms, things couldn't be more barren.
Commander Ekatarina Golovkina (Olga Dihovichnaya) is manning a crew on the International Space Station charged with securing a damaged probe from Mars carrying precious soil samples. Successful in their mission, scientist Hugh Derry (Ariyon Bakare) then finds a single cell organism resembling life as we know it on Earth, and after adding some glucose…presto! The life form begins to grow, each cellular unit, it's explained, capable of all body functions (it can hear, think, and cause evil, in other words). The creature amplifies, the humans get sloppy, and all hell breaks loose on the space station.
Unable to distance itself from its undeniable derivations from Ridley Scott's seminal 1979 Alien (who is only weeks away from unveiling his next chapter in the continually revived franchise), Rhett Reese and Paul Wernick's script (the writers of Deadpool) rushes us through an underwhelming dramatic catalyst regarding the compromised samples and their impending rescue, as explained in breathless, belabored voiceover from Rebecca Ferguson's quarantine officer (in truth, the only character with a semblance of icy professionalism). Underwhelming is an understatement as regards the introduction of a fleet of scientists currently aboard a space station which circles Earth sixteen times a day and is controlled and financed jointly by the US, Russia, and China (as explained via an ungainly publicity stunt between the bemused commander and a group of children in Times Square whose presence explains the Anglo-Saxan nickname bestowed upon the lifeform, Calvin).
If Olga Dihovichnaya plays like the only breath of fresh air, she's subsumed by her more famous counterparts, many playing to their worst possible tendencies, the prime culprit being Ryan Reynolds as the engineer Rory, the closest thing to blue collar comedy relief the film attempts, and whose usual smug shtick is bafflingly out of place. Speaking of worst possible tendencies, even the more adept team members all seem to have been born from the same imbecilic mold as the Logan Marshall Green character from Scott's Prometheus (2012), a film which now seems absolutely brilliant by comparison. Gyllenhaal's introverted David Jordan, a man whose muscles are beginning to atrophy because he's spent so much time in space due to his reluctance to return to the cruelty of Earth, is so vaguely defined as a character, the irony of an eventual proposed sacrifice is meaningless. By default, our sentiments for Ariyon Bakare and Hiroyuki Sanada are more palpable because the script actually made the time to humanize them, along with their struggles and desires.
As we make our way through the inevitable rhythm of And Then There Were None in space all over again, one also begins to realize the detrimental effects of CGI on genre. H.R. Giger's stunningly grotesque designs of Scott's original Alien remain iconic and effective because of their striking originality as well as their perverted semblances of the human anatomy. In Life (so named for the irony of 'life' for one sentient creature demands the death of another—in which case, Survival of the Fittest would have been a more blandly succinct title), we have another slimy, tentacled creature, this one out-fitted with translucent wings, like a mixture of imagery we've seen from The Abyss and Independence Day.
As Calvin glides splendiferously through airlocks and outer space with its lavender cicada wings, the film's initial trepidation jellifies into tedium. True, the production value of Life is as technologically sound as any studio production set in space, and comparisons to something like Alfonso Cuaron's 2013 phenomenon Gravity aren't necessarily unprecedented. But the stunning lack of originality considering the likes of Espinosa at the helm as well as impressive cast marks something like Life as a true misfire. Not long after James Cameron delivered his juggernaut 1986 sequel to Scott's film, the pluralized Aliens, Spanish director Juan Piquer Simon, a filmmaker with a long tradition of cheapie exploitation films, bamboozled Cameron's concept for the underwater set The Rift (1990). Besides the exponential difference in budget, Espinosa's Life is guilty of the same crime and suffers from the same cardboard quality.
★★/☆☆☆☆☆