Reviews
I'll See You in My Dreams | Review
Dream a Little Dream of Me: Haley's Superb Showcase for Blythe Danner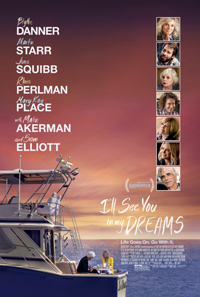 Long a supporting fixture in a variety of film projects going on five decades, actress Blythe Danner takes center stage in an endearingly warm turn in I'll See You in My Dreams, the sophomore film from Brett Haley. Premiering at the 2015 Sundance Film Festival, it's a familiar narrative enhanced by an adept script that focuses on character nuance rather than cheap laughs, and proves that even the grayest of predictable tropes can still be administered in an emotionally authentic manner.
Discovering that her dog is ill and must be put down, retired schoolteacher and widow of twenty years Carol Petersen (Danners) is left with a nagging void. She develops an unexpected friendship with Lloyd (Martin Starr), the new pool cleaner that attempts to help her rid the home of an unwanted rodent. Over several glasses of wine, it seems they are two souls with much in common, the disillusioned cleaner having recently moved back home to help out his own mother. They make plans to go out one night to karaoke. It seems exactly the kind of energy Carol needs to allow her trio of gal pals (June Squibb, Rhea Perlman, and Mary Kay Place) to goad her into a round of speed dating. The experience leaves her irritated, but it places her in the position to be invited out to lunch from the handsome man (Sam Elliott) that's been winking at her from afar at the golf club. Pursuing these unexpected ventures proves to be rather rewarding for Carol, who hasn't entertained the notion of romance since her husband died unexpectedly in a plane crash two decades earlier.
Contemporary audiences tend to recognize Danner as the mother of Gwyneth Paltrow or for her visible presence in studio fodder like the Meet the Parents films from the past decade or so. People tend to forget her dramatic pedigree (she's starred in two cinematic adaptations of Pat Conroy novels including The Great Santini and The Prince of Tides), and "Dreams" plays like a wonderful companion piece to her supporting turn in Todd Louiso's 2012 film Hello I Must Be Going. Just as Danner can be considered a neglected, underappreciated talent, her characterization of Carol Petersen is also familiar, though of a type often relegated to the periphery.
Outside of Nancy Meyers' body of work, women of a certain age aren't front and center in American cinema and Meyers tends to calibrate her efforts towards mainstream, privileged sensibilities. Carol Petersen is a lonely, comfortable widow that allows herself to open up to new connections, at the expense of being forced to grapple with the reality that 'this is it.' Her chemistry with both Martin Starr and Sam Elliott is equally appealing, and for different reasons. If the trajectory of her romance with Elliott is entirely predictable (even with its melancholy twist), her developing friendship with Martin Starr (another excellent role following his warm turn in Amira & Sam) is more invigorating, involving an excellent use of karaoke when Danner wows a small crowd.
As her trio of friends, June Squibb, Rhea Perlman, and Mary Kay Place are your standard issue stereotypes of comic biddies, though they tend to charm rather than irritate, even when Haley engages in modern indie cliché by having the quartet smoke marijuana and go on a shopping binge. A late appearance from Malin Akerman as Carol's daughter feels nicely understated, providing a different perspective of Carol that adds surprising texture.
The film's rendition of the isolated Los Angeles life feels technically assured, tied as we are to Carol's limited ventures outside her home. The presence of the large, black rat that meanders through her house shortly after her dog dies seems to be representative of Haley's main motif, its presence described by the exterminator as an 'isolated incident.' Though the rat's presence is never rationalized, its eventual capture seems to signify that we can stop to examine these moments of discomfort, distress, and unease, (moments that generally lead to growth or understanding) but doing so only reduces life to a series of such incidents.
Simplistic, endearing, and enjoyable, I'll See You in My Dreams owes much of this eloquence to an effortless Blythe Danner. Haley and screenwriter Marc Basch manage to strike the right balance of bitter reality mixed with pleasant enchantment and made a film that's unexpected and graceful.
★★★/☆☆☆☆☆