Reviews
It's Only the End of the World | 2016 Cannes Film Festival Review
Don't They Know?: Dolan Delivers a Dud with Familial Drama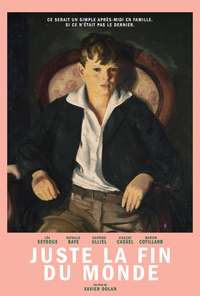 Though no stranger to working with French stars, Quebecois filmmaker Xavier Dolan makes his first film in France with the anticipated It's Only the End of the World, an adaptation of a stage play by Jean-Luc Lagarce (material previously made into a television feature in 2010 by Olivier Ducastel and Jacques Martineau). Sporting a quintet of formidable French stars, the narrative considers a successful gay playwright who returns home after an absence of twelve years to inform his estranged family members of his impending death. Except everyone else seems keen on voicing their input about how his actions have affected them first. Unfortunately, what sounds like the sort of inspired melancholy material Dolan gravitates towards plays like a beautiful plate glass window shattered beyond repair nearly as soon as the opening credits end. Shrill, contrived, and hysterical, watching these accomplished actors stomping around in this swamp of insincerity is like being forced to enjoy the sound of nails scraping chalkboard until Moby's voice wakes us and we drown.
Louis (Gaspard Ulliel) is returning home for the first time in over a decade to announce his impending death. His family members are none the wiser, used to his absence and infrequent bouts of communication through postcards. Though he's a successful playwright, none of them can quite figure out why he distanced himself, especially since they're also aware of his sexuality. His mother (Nathalie Baye) is insistent on putting on a grand display for her prodigal son, but his elder brother Antoine (Vincent Cassel) is less enthusiastic, though his crumbling marriage with Catherine (Marion Cotillard), who has never met Louis, isn't helping. And then there is younger sister Suzanne (Lea Seydoux), who wasn't old enough to have clear memories of her famous brother before he left, but she's eager to impress him, nonetheless.
The usually winsome Gaspard Ulliel seems destined for a sickly year, judging from his sallow pallor in both this and The Dancer. In Dolan's film, his death shroud is apparent in his sunken, baggy eyes and pursed lips, some omniscient narration thankfully allowing him a bit of poetic justice the exchanges of dialogue never convey. The point of the whole exercise is to prove how impossible it is to communicate with the very people we're supposed to love. If absence makes the heart grow fonder, it also fosters brooding resentment for the exaggerated clan here, a clutch of folks who seem unable to function without interrupting one another at every turn and purposefully annoying whoever has the floor with blatant rudeness. There could have been an element of satirical black comedy here (and one assumes this was the intention of Lagarce's stage play), but if so, it's lost in the translation of this self-serious adaptation which demands meaning through desperation.
One feels a certain embarrassment for some of the actors, particularly the magnificent Nathalie Baye, who looks like she's auditioning for a drag version of Chicago and about as natural a beleaguered mother in this scenario as Dustin Hoffman's famed Tootsie persona. Increasingly, Dolan (with the exception of Anne Dorval's performance in 2009's I Killed My Mother) desires to direct his older female characters as crass clowns, always the butt of the joke until some third act wisdom promises the possibility of catharsis.
Vincent Cassel and Ulliel perhaps fare the best here, if mostly because their agendas don't seem quite as contrived. Poor Lea Seydoux's first big monologue is upstaged by an unnecessary Blink 182 track playing in the background, while Cotillard is forced awkwardly into a perpetually flummoxed country bumpkin role whose victimhood Louis is attracted to. All of the meaningful exchanges circle painfully around stutters, relapses and fragments of repeated phrases, meant to convey the duress of having to pierce through the superficialities dictating a polite reunion, but a Philip Glass inspired score from Gabriel Yard only enhances the lack of depth achieved.
Dolan, once again doing his own editing, achieves some visually inspired moments with DP Andre Turpin, usually in flashback sequences meant to open up this chamber drama. But dress skirts flowing in the blustery wind of one's nostalgia may work wonders in music videos, but not so here, where overblown extreme close-ups hang anxiously on pained, pregnant expressions of the actors, whose overly mannered performances drown each other out in several extensive moments of braying and shrieking.
To say It's Only the End of the World is a misfire is an understatement, but as it draws to a close, one can't help but recall the musing, depressing track from Skeeter Davis and realize a bit of pondering tenderness rather than the harshly drawn metaphor of a cuckoo bird flying the coop would have greatly assisted the crash-landing contrivances.
Reviewed on May 18th at the 2016 Cannes Film Festival – Main Competition. 96mins.
★/☆☆☆☆☆