The Spectacular Now & Then: Ponsoldt Taps Summertime Sadness in Coming-of-Age Drama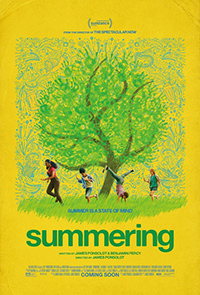 The dog days of summer aren't over for a quartet of young girls on the verge of adolescence in James Ponsoldt's sweet but slight drama, Summering. A return to the simple but intimate relationship dynamics which graced his earlier features, his latest is a reminder of the kind of earnest and mature YA narratives which influenced a previous generation's childhood, where changing seasons provided the metaphorical, inevitable backdrop of formative experiences. Although a bit too saccharine and superficial, it's an amiable narrative about friendship, connection and the excitement of adventure.
Like all of Ponsoldt's films, a thread of melancholic reality shifts indiscernibly beneath the surface, often the very element allowing for its eventual moments of fleeting poignancy. Co-written by Benjamin Percy, making his screenwriting narrative debut, their shared perspective of preteen girls and their effervescent mothers stops woefully short of anything remotely substantive or analytical, which unfortunately tends to highlight the narrative's more derivative aspects.
On their last weekend of summer before the start of middle school, Daisy (Lia Barnett), Lola (Sanai Victoria), Dina (Madalen Mills) and Mari (Eden Grace Redfield) are at the end of a customarily normal day when they happen to spy the body of a dead man, face down in the brush between a bridge once infamously known as a suicidal hotspot during the Great Depression (which happens to be in their shared secret spot they've named Terabithia, a reference to the 2007 children's film). Rather than tell their mothers (Megan Mullally, Lake Bell, Ashley Madekwe, Sarah Cooper), the girls vow to return the following day and begin their own sleuthing to determine what happened to the man. Their innocent adventure suddenly becomes complicated due to various obstacles in their quest, and an eventual introduction to the realities of adulthood. Along the way, both the girls and their mothers are forced to meditate on the reality of expiring friendships and the possibilities of new ones.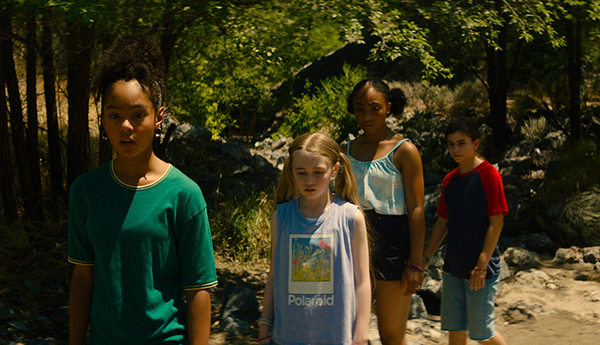 The influence of Stand By Me (1986), directed by Rob Reiner and adapted on Stephen King's novella The Body, feels like an unavoidable shadow in this femme centered flip side, as do a slew of other items, like Now & Then (1995), which also juxtaposed age as a cross sectional friendship fantasy. But Ponsoldt and Percy never quite grasp a sense of characterization beyond prototypes, the younger girls representing responses to their own mothers' anxieties or shortcomings.
The life 'lessons' either learned or embraced by mothers and daughters feel a bit rote, centering on our connectivity to one another and maintaining consideration and respect for those around us. The suggested empathy in these themes also feels subdued, despite several subtle mom moments which feel sweetly, if fleetingly, attenuated. But what we know about any of these characters can only be surmised through the briefest of occupational or relationship defined details as the young girls at the center are well aware of the inevitable life changes they're hurtling toward in less than a week's time.
The maudlin aspect of the dead body they're failing to report, leading to an 'investigation' to discover who, how, and why the man came to be lying face down in a ditch, ends up being more of a mechanism than anything else. Through their search for his identity, they find the man was down and out, living in a storage unit (where Ponsoldt can't seem to help himself when conjuring a prominent display of Shirley Jackson's We Have Always Lived in the Castle, a much stranger and more troubling tale about two sisters, representing the most interesting detail of this scene), eventually performing a seance where they're really examining their own fears and vulnerabilities.
Five years after his last feature, an adaptation of Dave Eggers' The Circle (2017), his most ambitious and most disappointing venture to date (which notably featured both Bill Paxton and Glenne Headley in one of their final on screen performances), Summering feels an attempt to return to the gentle intricacies of The Spectacular Now (2013) or even the bluntly administered addiction film, Smashed (2012) but across a broader, ensemble style exercise. While he conjures the mood of middle school as a rite of passage, there's nothing particularly compelling or indelible about these particular girls or their more vivacious mothers, instead playing like its title suggests, a pleasant sunny day with some threatening storm clouds unceremoniously evaded.
★★½/☆☆☆☆☆