Reviews
Jayne Mansfield's Car | Review
Brains of a Blonde: Thornton's Unnecessary Return to the Director's Chair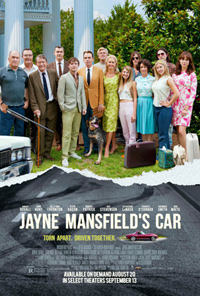 After his astonishingly strong 1996 directorial debut, Sling Blade, you'd be hard pressed to find another new director more highly anticipated than Billy Bob Thornton during that time period. After two viciously unsuccessful followups (a failed Cormac McCarthy adaptation,  All the Pretty Horses, 2000, and a jarringly delayed family drama, Daddy and Them, made in 1999 and released on DVD in 2001), Thornton finally debuts a fourth feature, Jayne Mansfield's Car, which continues his fascination with sprawling Southern family sagas where familial relations are strange and in-laws interminably spout second-tier Tennessee Williams tropes, and where an attempt at depicting culture clash really only plays out like misguided narrative clash. Sadly, this southern fried period piece is as headless as the corpse in the car it references, the tacky Mansfield car a garish metaphor for Thornton's cinematic offering, touring endlessly for those curious enough to take a looksy.
The heat isn't the only thing sweltering in 1969, Alabama. Carroll Caldwell (Kevin Bacon), an outspoken hippie, keeps organizing protest marches against the Vietnam War, much to the chagrin of his persnickety father, Jim (Robert DuVall), and elder brother Jimbo (Robert Patrick). However, the other brother, Skip (Billy Bob Thornton), is a war veteran like Carroll, who commiserates with the rebel hippie, revealing that Jimbo is jealous of the other other two, never having had the chance to prove his manly mettle in the war, as he got stuck doing laundry while his brothers killed people. Then there's the frisky sister, Donna (Katherine LaNasa), herself in a flounderingly dull marriage. Their lives are about to be turned upside down, as their estranged mother has recently died in England, where she had been living with the man she left Jim for, Kingsley Bedford (John Hurt), and her body is being brought home to Alabama. Kingsley, with two kids from a previous marriage in tow, Camilla (Frances O'Connor) and Phillip (Ray Stevenson), has arrived for the funeral and the Caldwell clan is extremely concerned about how the caustic Jim may react. Kingsley and Jim, surprisingly, become fast friends, while their children end up connecting in their own adult ways. Somewhere in the mix is the Caldwell family maid (Irma P. Hall), popping up at odd moments to relate useful snippets of information. Odd squabbles ensue, and some characters learn vague life lessons.
At times feeling like a period piece mash up of Daddy and Them (as if the characters in that film were the descendents of what's on display here), there's nothing innately original or even fresh about the people or the proceedings. From the very first moment where Kevin Bacon (and please take a moment of silence to observe that Bacon, Patrick, and Thornton are supposed to be brothers related by blood) leads one of cinema's most lackluster protests, to an overreaching and non climactic sequence where Robert DuVall accidentally ingests LSD (a scene which sounds a lot better than it plays out), there's not one iota of genuine emotion or much needed subtlety. Even at moments meant to convey sensitive connections or emotional wisdom, the dialogue feels deliriously strained, everyone acting overly affected and for absolutely nought. Thornton, as he did with Daddy, uses car crashes as an intersection of character development and melodrama, as DuVall's character eerily flocks to every crash site he hears about on his police scanner. And here, we even get a look at that titular car wreck, a gruesome spectacle bringing people together to gawk, a death box that once held a legendary Hollywood beauty. It's too bad that Thornton's vehicle doesn't even have the generosity to grant us that draw, as this is one car wreck that neither provides us with survivors nor takes any victims. In other words, there's absolutely nothing there.
Reviewed on September 15 at the 2012 Toronto International Film Festival – GALA PRESENTATIONS Programme.
121 Min