When You're Expecting: Dosunmu's Sophomore Feature a Gorgeously Shot Tale of Immigrant Tradition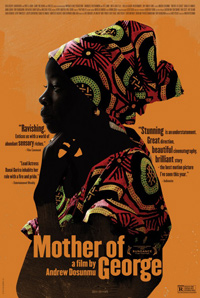 After debuting his 2011 feature Restless City to critical acclaim on the festival circuit and a limited theatrical release, Nigerian born director Andrew Dosunmu finally debuts the project he originally intended to film first, Mother of George, another tale informed by the rich (and rigid) traditions of the Nigerian immigrant community in Brooklyn. Returning with acclaimed cinematographer Bradford Young, Dosunmu's latest is an electrically photographed film, a vibrant collection of luscious imagery, which elevates an otherwise rigid, pared down narrative.
We meet Adenike (Danai Gurira), who has recently emigrated from Nigeria to marry Ayodele (Isaach de Bankole) during their ceremony. Ayodele's outspoken mother (Bukky Ajayi) blesses the bride, confirming the number of children they will conceive together, the first a boy to be christened George. But after eighteen months with none of the predicted results, Adenike begins to feel pressure from her mother-in-law and a community that puts her at fault for the couple's inability to conceive. She confides in her best friend, Sade (Yaya Alifia), who is secretly engaged in a relationship with Ayodele's younger brother, Biyi (Tony Okungbowa). While Ayodele runs his restaurant with the help of his younger brother, Adenike attempts to seek fertility treatment much to the chagrin of her husband. When she is unable to convince him to see a doctor with her, Adenike's mother-in-law provides her with an alternate, secretive option for conception—an option that will threaten the otherwise happy home of Adenike and Ayodele.
Mother of George's strongest assets are the breathtaking cinematography and the undeniably compelling and raw performance from the beautiful Danai Gurira. The combination of sound and imagery (muffled murmurs of dialogue continually are heard just out of ear shot) is exquisitely enthralling, enhancing a narrative that's overly familiar and not exactly specific to the immigrant community it's depicted in here. Young carefully composed shots often frame Adenike's torso, the real cause of conflict here, as we're meant to see the absence, the empty space where something else should be. George is this absent space, a prophesied specter that infects the lives of this closely knit family, where a woman's worth is based solely on her ability to conceive. And of course, Dosunmu's material is elevated by his superb cast, many (including Gurira) returning from working with him on Restless City.
While this film may belong to the wonderfully expressive Gurira, her best scenes come from the loving relationship she shares with her superb co-star, Bankole, in a lovely, subtlety rendered performance. But whatever squabbles some may have with the simplicity of the pared down narrative, all will most certainly be enamored with some of the most gorgeous shot compositions they'll see this year. We glance at Adenike through many a pane of glass, veiled curtain, and also, via reflections in the mirror, one of the best being a breathtaking shot of Gurira and Bankole from their living room mirror as they discuss the possibility of fertility treatments, framed by the dark purple living room. Mother of George is, exquisitely, cinema of the senses.
Reviewed on January 19 at the 2013 Sundance Film Festival – US DRAMATIC COMPETITION Programme.
106 Min