A Prayer Before Dawn | Review
Break the Dawn: Sauvaire Browbeats with Violent, Grim Prison Drama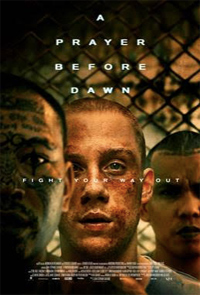 Although a simple plot synopsis tends to glorify the perilous pugilism which provides the bizarre backbone of Jean-Stephane Sauvaire's second narrative feature A Prayer Before Dawn, adapted from the popular memoir by Billy Moore, such descriptors downplay what is an intentionally hyper-violent and gritty tale of injustice.
Moore, a British ex-junkie who was incarcerated in a Thai prison and forced into cruel, grueling bouts of boxing, gets a rousing big-screen mounting thanks to Sauvaire, who's film is much more reminiscent of something like the classic Midnight Express (1978) than a Raging Bull (1980). And while the film's trenchant seriousness may leave audiences feeling as if they've been beaten into submission with material which isn't exactly novel, it's in spirit with the director's 2008 debut Johnny Mad Dog, which concerns child soldiers in Africa. His latest is likely to be an elevated international calling card thanks to its initial premiere at the 2017 Cannes Film Festival and a laudable central performance from rising British star Joe Cole.
Based on Billy Moore's 2014 memoir A Prayer Before Dawn: A Nightmare in Thailand, Sauvaire strips this down to the barest essentials, creating a visceral and distressing experience from the perspective of Joe Cole as Moore, a heroin addict who suddenly finds himself arrested and locked in a Thai prison. Disoriented and dazed, we're about as lost as Moore, whose significant prison history prior to this experience isn't referenced. The lack of any real exposition allows for us to focus exclusively on Moore assimilating into the fabric of Thailand's Bang Kwang Central Prison, where brutality is the law of the land. The usual stereotypes flourish here, including bribing, inappropriate fraternizing, and the expectation of violence and gang rape at any given moment. Filthy, degrading living conditions lends a sense of body horror as Moore fights his way through the troubling and complex prison fighting circuit, where men are treated like animals.
Cole, who may be recognizable to genre enthusiasts thanks to supporting turns in Jeremy Saulnier's Green Room (2014) or the series "Peaky Blinders" gets a memorable platform here, which is owed in part to his presence as the only white, English speaking main character (Moore himself appears as his own father). Although there are a handful of Thai supporting characters, there's a sense of interchangeability.
The sole exception being perhaps the most interesting element of the whole cinematic experience thanks to Pornchanok Mabklang as Fame, a trans inmate who experiences a meaningful fling with Moore—though their relationship also exacerbates some discord. DP David Ungaro (who contributed to the striking palettes of 2008's Coco Chanel & Igor Stravinsky) churns A Prayer Before Dawn into a ballet of blood and bruised flesh, utilizing handheld camerawork allowing for this boxing/prison/injustice drama into something a tad more intimate and relentlessly reactionary than others of its ilk.
★★★/☆☆☆☆☆