The Harder They Fall [Video Review]
Zest of the West: Samuels' Western Soap Opera Long on Style, Short on Substance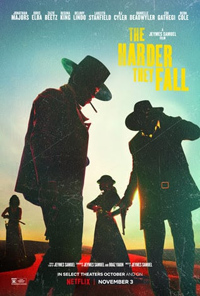 In a film which plays as both recuperation and revisionism, Jeymes Samuels goes for broke in his feature debut, The Harder They Fall, a Neo-Western which fabricates a narrative based on a handful of real-life historical figures erased by white gatekeepers of both history and fiction.
Clearly a labor of love, the British musician previously lensed a 2013 medium length film They Die By Dawn covering the same territory, but once again captures a high profile ensemble of notables for an All-Black Western. Unfortunately, the whole is not the sum of its parts, and despite speckled with action, violence, and a script full of withering zingers (thanks in part to co-writer Boaz Yakin), the narrative fiber disintegrates into slim pickings once the smoke clears and the dust settles.
In the latter half of the nineteenth century, a vicious outlaw named Rufus Buck (Idris Elba) guns down a pastor (Michael Beach) and his wife (DeWanda Wise) in cold blood as their child watches, carving a cross into his forehead and leaving him orphaned. The child grows into an outlaw himself, Nat Love (Jonathan Majors), forming his own gang and hellbent on hunting down Buck's men for vengeance. Having taken care of all those involved in his parents' murders, only Buck is left. But Nat's opportunity reveals itself when Buck is broken free by his henchmen (LaKeith Stanfield, Regina King et al.) while he's transported between prisons. As Buck pursues his own ventures, including resuming control of the Black town he established in Texas by severely beating the corrupt seated sheriff (Deon Cole), Nat assembles his posse and makes his move.
Strangely, much of the narrative stagnates in its own spiritual vacuum, conveniently ignoring the racist vehemence of white Americans in this squabbling between the Nat Love and Rufus Buck gangs. Because of this, there's a certain Blaxploitation feel to The Harder They Fall, even as it moves to empower (think how Melvin Van Peebles sensational and groundbreaking Sweet Sweetback's Baadasssss Song singlehandedly generated the Blaxploitation genre thanks to its runaway success in 1971). And Samuels is not the first filmmaker to dust off these neglected figureheads of past eras, where rebels of the white power structure are systematically phased out without representation (Thomasine and Bushrod, credited as a Black Bonnie & Clyde from Gordon Parks Jr. in 1974 comes to mind), but this is surely one of the most vibrantly calibrated.
Almost in an effort to revel in its (rather inconsequential) third act reveal, it's as if Samuels steers wide of both Jonathan Majors and Idris Elba, and some of the film's more vicious supporting players tend to steal all the glory. Regina King as Treacherous Trudy and Zazie Beetz as Stagecoach Mary (a sort of cross between Calamity Jane with a dash of Dietrich in 1939's Destry Rides Again) tend to loom larger than their male counterparts. The same goes for Danielle Deadwyler as Cuffee, shoehorned into a similar gender disguise as utilized in The Good Lord Bird, whose screen time rivals that of LaKeith Stanfield's Cherokee Bill, for instance. And then as the film's sole moral compass, Delroy Lindo walks away with some of the best lines.

With an eventual showdown as predictable as High Noon (1952), and the narrative parameters as hoary as any of the Westerns its borrowing tropes from (1958's Terror in a Texas Town feels like a kissing cousin, for sure), The Harder They Fall does suffer from a pacing issue, packed to the gills with characters deserving of a bit more breathing room. One wonders what this might have looked like on the scale of a "Lonesome Dove," given the time and care which went into researching these figures (for comparison's sake, Samuels is far and above the fun but near Z-grade quality of other contemporary films which have strayed into this territory, like the Lil Kim led Gang of Roses, 2003).
Enjoyable but missing out on narrative finesse and characterization as it prizes heavily stylized revisionism, The Harder They Fall might not navigate tension but it surely opens a door for more immersive historical fanfiction mining countless stories neglected in a medium where content is constantly recycled.
★★½/☆☆☆☆☆