In the Name of the Rose: Larrain Crafts Empathetic Portrait of an Icon in Anguish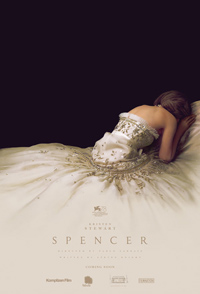 The eternal impact of Diana, Princess of Wales, whose celebrity courted such intense public scrutiny it ended in her tragic death in 1997, lives beyond any attempt to lionize or demonize her legacy. Public fascination with the elitism of the British monarchy continues, but whether it be Elizabeth Debicki in "The Crown" or easily dismissed melodramas over the past decade (such as the 2013 Naomi Watts starrer Diana), Lady Diana Spencer remains a contentious figure to embody. In his continuing fascination with examining the tragedies of political celebrities, Pablo Larrain makes an intriguing choice in casting Kristin Stewart to play Diana during one particularly painful weekend of her life. A fabrication of her emotional turmoil to be sure, the benefit of wedding two paparazzi strongholds, as well as doubling the sense of the outsider to both custom and culture, allows an odd but successful immersion into the emotional distress of woman lost to herself and trapped in a chilly, regimented glass house.
Although unspecified, the imagined events over one fraught Christmas holiday in Sandringham likely take place in 1991, where Diana, Princess of Wales (Stewart) resolves to leave her husband, Prince Charles (Jack Farthing). Knowledge of his highly publicized affair with Camilla Parker Bowles (who remains unnamed) has permeated their relationship, and Diana is painfully aware he bought them both the same gift—a pearl necklace. Emotionally distressed, suffering from bulimia, her private life churning the pulp of tabloid fodder, she arrives to the traditional three day celebration late, having driven herself and lost her way (despite have grown up in the area, her childhood home now a boarded up facade—dangerous to step foot in, she's told). Immediately she's dismayed at the sinister equerry (Timothy Spall), who's been dispatched to 'deal' with Diana, immediately insisting she engage in the 'friendly tradition' whereby all guests must be weighed upon arriving and departing the holiday weekend—the goal is for everyone's fun to be measured in their ability to gain three pounds. With only the head chef (Sean Harris) and her dresser, Maggie (Sally Hawkins) as trusted confidantes, Diana's resolve is increasingly whittled away over the weekend. Pushing back on the endless rules and expectations, most of the staff are impatient with her small rebellions, seeing as it reflects poorly on their own abilities. Only her children, Prince William (Jack Nielen) and Prince Harry (Freddie Spry) can provide any sort of succour. Channeling her connections to Anne Boleyn thanks to a book someone has cryptically placed in her room, Diana is unsure about her next move, knowing only once the holidays end, she must make a drastic change or be consumed by the unhappiness wasting her away.

While Steven Knight's screenplay takes a few too many laborious tangential sequences predicated on Anne Boleyn in the narrative's attempt to highlight how women are carelessly discarded (in Boleyn's case, murdered) once their usefulness to the 'throne' has expired, the overall intention is interesting. Introduced in the film as a woman who has lost her bearing, as evidenced from her inability to navigate the route to Sandringham, despite having grown up nearby, she can't see a future and thus obsessively seeks solace in a past–but we all know, one can never go home again. Larrain showcases her life crumbling beneath her, exacting agency in the few ways she can, relegated almost entirely to her own body and a manipulation of time by being perennially late to a myriad of rigid ceremonial customs. The oft-remarked coldness of Sandringham is the obvious metaphor for the tone of the royal family towards Diana—there is no real warmth for them to give.
Although her demise is but one chapter in her highly documented existence, Larrain drops her at the precipice of a hopeful period, a phoenix about to rise from the ashes and reinvent herself. Stewart may not be the most uncanny iteration of Diana, but she gives an exemplary performance which transports us into her troubling perspective. More successful than he was with 2016's Jackie (read review), there's less sense of the contrived thanks to Stewart's compelling, empathetic portrayal. While her continual face-offs with Timothy Spall's hounding security detail grow tiring, some meaningful moments with Sally Hawkins as a lifeline are touching, or whenever Diana engages with her children. The demure pay offs are sometimes unexpectedly wondrous, such as when Diana dances out into the line of fire to pilfer her sons away from pheasant hunting and succeeds in channeling something rather sublime, as far as the film's energies go.
Jonny Greenwood (who also scored Campion's The Power of the Dog) adds a level of increasing anxiety, and DP Claire Mathon (Portrait of a Lady on Fire; Stranger by the Lake) creates a sumptuousness and extravagance in these frames reflecting both the opulence of Sandringham and the tragic, emotional plateaus of a woman too authentic for the supreme superficiality of the life she wed into. Announced as "A Fable from a True Tragedy," with Spencer, Larrain has created something akin to Joyce Carol Oates' Blonde, an imaginary exploration of Marilyn Monroe's rise in Hollywood. Neither get away from a sort of sympathizing spectatorship despite the meager agency afforded beautiful women gawked at in their gilded cages, but there's a catharsis in envisioning all the small battles women such as these win behind the scenes, victories erased by the powers who control their image and their narrative.
Reviewed on September 3rd at the 2021 Venice Film Festival – Main Competition. 111 Mins.
★★★½/☆☆☆☆☆