The Eternal Daughter | Review
I Remember Mama: Hogg Explores Film as Memento Mori in Gloomy Ghost Story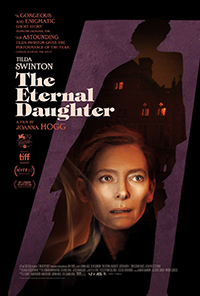 Our own memories are the ghosts haunting us, or at least the main characters in Joanna Hogg's latest, The Eternal Daughter. A mother and daughter, each played by Tilda Swinton, return to a childhood facade meaningful to the former's past, a hulking manor long since turned into a grand hotel in Wales. Every room triggers memories from the mother's past, both good and bad, as her daughter secretly works on a film project meant to explore their relationship. Once again exploring semi-autobiographical elements while tapping Swinton as her alternate screen ego, albeit somewhat fetishistically following their collaboration on both parts of The Souvenir, Hogg taps into the languid supernatural stylization inherent in turn-of-the-century gothic fiction to ruminate on guilt pertaining to a past constantly requiring reconciliation.
Julia (Swinton), a filmmaker, is transporting her mother (also Swinton) to a former family home refurbished into a hotel. Their taxi driver shares his sighting of a ghostly woman in the window, which is why he avoids driving to the palatial manor on dark winter nights. Her mother recalls joyful memories with her childless Aunt Jocelyn during WWII, but there's a brooding unhappiness saturating the dreary landscape, thanks partially to a mostly unhelpful and unhappy front desk clerk (Carly-Sophia Davies). With her mother's cuddly dog Louis in tow, Julia is secretly working on a new project about her mother, but immediately experiences writer's block, anxious about trespassing on territory not belonging to her. Eventually it seems they are the only guests at the hotel, while howling wind, foggy tendrils, and creaky windows plague Julia's ability to sleep. As days pass, she must confront a reality she's been avoiding.
Hogg's title is a rather unnerving distinction to unpack, considering Julia, who is childless, is indeed doomed to be an 'eternal' daughter, forever focused on this identity dynamic, always subservient, never superior. It's an intriguing concept in itself but Hogg explores the ramifications of memory as a literal haunting. Ed Rutherford's stunning cinematography of foggy foliage enclosing the looming facade is The Fall of the House of Usher wrapped in gorgeous giallo themed accents.
Hogg's pacing is purposefully lackadaisical, a sweet dream twisting into a beautiful nightmare as Julia's inability to sleep is aggravated by an obnoxiously disconsolate front desk attendant, one of the only two humans seemingly on the estate, as if it's The Overlook from The Shining (1980). But Hogg's penchant for visual detail provides us with rich clues about Julia's mindset, particularly with her reading materials (should one be able to glance their titles), such as Marion Milner's On Not Being Able to Paint, concerning elements stopping the ability to create, or Julia falling asleep while she's about to begin reading Rudyard Kipling's 1904 story They, an autobiographical supernatural tale about dealing with the death of his daughter. Like Kipling, Hogg is exploring a bizarre universe where the sinister represents an uncomfortable confrontation with healing.
Glances at the name of the hotel, Moel Famau, named for the highest point of Clwydian Range, is Welsh for 'bald mothers,' our initial subtle hint of everything maternal about to be laid bare. Although a significant twist isn't confirmed until late in the narrative, one might easily guess what it could be, though Hogg seems hardly interested in shock value with this slow burn where Julia's mental state immediately seems to fray.
A glut of 1970s 'mad woman' horror tropes are recalled in the film's superb visual fabric, like DP Ed Lachman's early work in Scalpel (1977), and character work like the Angela Pleasance character in Symptoms (1974). The incessantly fussy mother/daughter duo lean into the sense of the vampiric, or at least symbiotic in a child's absorbing constant sustenance from a parent. There's an element of the hotel themed cult classic Daughters of Darkness (1971) led by Delphine Seyrig, but Hogg avoids any real sense of the lurid. Instead, there's a gothic poetry, reminiscent of authors like Poe or Robert Graves, though touched with an inherent comic tone in a tale of two Tildas.
Though a much smaller scale than her Souvenir films, The Eternal Daughter has the makings of a cult arthouse film while simultaneously serving as a rather poignant homage to motherhood and a remembrance of things past. For it is these memories we're doomed to embrace, always lurking round a corner, haunting us until we slip into the same realm with them.
Reviewed on September 5th at the 2022 Venice Film Festival – In Competition. 96 Mins.
★★★½/☆☆☆☆☆