A Quiet Place Part II [Video Review]
Islands in the Stream: Krasinski Doesn't Disappoint with Long Awaited Genre Sequel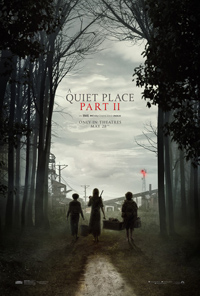 There's something intrinsically inviting about the grueling survival odyssey of the Abbott family, introduced to us in the runaway hit A Quiet Place in 2018. The chemistry between writer/star John Krasinski and wife Emily Blunt is readily apparent, but it's the American-as-Apple-Pie aesthetic of a white, handsome, well-heeled Midwestern familial nuclear unit as wholesome as any a composite generated in the 1950s which really feeds into our conditioned neural synapses. They could easily be transplanted into the period of The Day the Earth Stood Still, for instance, and for many, they're a safe portrait of normalcy and humility.
As a glittery salt-of-the-earth reflection, their plight conjures immediate empathy, furthered by universal moments of poignancy established through characterization tested by extremes. Screenwriters Scott Beck and Bryan Woods haven't returned for the long-awaited sequel, but this time around, Krasinski's penchant for kineticism doesn't leave room for nagging commentary about the Abbott fam in a film which hits the ground running and doesn't look back.
Taking place immediately where A Quiet Place left off (with a brief opening revealing how the blind, rampaging monsters landed on earth), Evelyn Abbott (Blunt) and her three children leave behind their compromised farm, armed with their newly found audio weapon. They inadvertently rendezvous with Emmett (Cillian Murphy), an old family friend now broken down in despair after his wife passed away. Spending his days in a bunker beneath an abandoned industrial plant, he refuses to allow Evelyn and the children to stay. But Regan (Millicent Simmonds) believes a song playing on a radio at Emmett's is a clue to how she can find fellow survivors and the apparatus needed to transmit the audio frequency which would render the monsters helpless. Taking off on her own in the middle of the night, the devastated Evelyn begs Emmett to go after Regan while she stays behind with her injured son Marcus (Noah Jupe) and infant. Terror, however, lies in wait for them all.
The established rule of thumb about sequels is to be bigger and better than their predecessor, which often results in something far less evocative than what inspired it. A Quiet Place II might end up feeling like a smoothly geared transitional franchise film, but although it expands on its universe, this feels like a slick continuation instead of a cash grab trying to outdo itself. Since the extraterrestrials and their origins were never quite explained in the first film, this leaves a lot of room to play around. But Krasinski doesn't squander one single moment of running time, appearing as the deceased patriarch in the opening flashback sequence of the day the world ended, and segueing beautifully through a memory to where the first film left off. Like REC 2 or Halloween II, this seamless link forms an inextricable bond in tone, and is arguably the most innovative way to continue a universe which arguably wasn't meant to be expanded in the first place (obviously, this isn't the case for the sequel).
Like the quiet dread of Alien morphing into the rollercoaster of Aliens, Krasinski has crafted a thrill ride without a lot of 'quiet' narrative moments. The expert audio juxtapositions and sound designs are again enforced masterfully, enhancing even the most banal of ambient noises, which heightens our sense of dread—but there's little room for one's mind to wander.
If anything, Krasinski's storytelling style proves him to be perfectly efficient for genre, as compared to his 2016 family drama The Hollars, which drowned out all its reflective transitions with blaring musical selections. This is a playground where such choices really work effectively, with composer Marco Beltrami returning as composer while DP Polly Morgan steps in with the difficult task of making a beautiful piece of film appear foreboding (perhaps most effectively in a climactic sequence utilizing neon lit signs).
If Krasinski's flashback role is brief, he instills a similar masculine energy in the despair of Murphy's Emmett, who shares some lovely sequences with Simmonds. Dual storylines are spliced together as Blunt (who's effervescent but on the back burner this time around) and Jupe stay behind to await news of Murphy and Simmonds. All the handsome survivors (which includes Djimon Hounsou) are juxtaposed in another effectively staged sequence involving some less fortunate stragglers (led by an eerily made-up Scoot McNairy). The constant switching back and forth recalls the term 'nail biter,' a pull quote stunt word perhaps too overutilized to really mean much, but it's a film reflecting this sentiment.

Touching, hopeful and effectively nerve wracking, A Quiet Place II is also a wonderful showcase for Millicent Simmonds (also of Todd Haynes' Wonderstruck), who in a handful of emotionally wrenching scenes, whether with Krasinski, Murphy, Jupe, or the merciless, cochlear compromised aliens, is a pleasure to watch.
★★★★/☆☆☆☆☆