The Girlfriend Experience: Barrett Mines B-Movie Tropes in Hybrid Throwback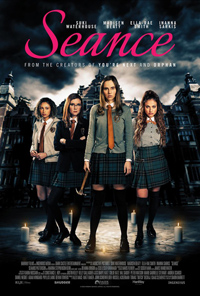 There's no greater hotbed of dysfunction and perversity than the homosocial staples of either the boy's locker room or an all-girls boarding school. The seeming endless fascination with the traumatic universality of these gendered spaces may yet be arguably rife with narrative possibility, and a somewhat underwhelming attempt to recuperate such energies for contemporary parameters is Seance, the directorial debut of Simon Bartlett.
Better known as the favored scribe of Adam Wingard, having penned You're Next (2011) and their penultimate offering, The Guest (2014), with which this narrative shares some similarities, devious preadolescents and the vengeful female spirits purportedly haunting them formulate this conceit. A delightfully astute vibe in this mise en scene notwithstanding, some unavoidable derivations and a woebegone third act ultimately detracts from an otherwise enjoyably ripe scenario. If only Bartlett had pushed the envelope a bit more, as mundane temerity is this film's ultimate undoing.
A group of bored girls at the prestigious Edelvine Academy decide to conjure the spirit of a young woman who killed herself on campus back in 1998. The ritual turns out to be an elaborate prank suggested by teen queen supreme Alice (Inanna Sarkis), but it also leads to the death of their cohort Kerrie (Megan Best), who falls out her window to her death the same night. But now there's a new opening in the student body, and headmistress Mrs. Landry (Marina Stephenson Kerr) accepts the application of the mysterious Camille (Suki Waterhouse), who is immediately befriended by the class pariah, Helina (Ella-Rae Smith). Camille has no intention of making nice with Alice and her posse of girl goons, but after fisticuffs lead to a lengthy detention sentence, the girls decide to hold another séance for shits and giggles, ultimately unnerved at the deadly chain of events caused by their otherworldly meddling.
While somewhere on a broad continuum at the juncture of Mean Girls (2004) and Suspiria (1977), there are endless points of cinematic comparison with Seance. Neither a completely rudimentary B-grade floater nor a strident arthouse endeavor, it's better than many sister films, from Cherry Falls (2000), the recent Nocturne (2020), Mary Harron's disappointing The Moth Diaries (2011) or the ludicrous Black Christmas (2019) rehash from Sophia Takal. But one wonders if more sinister, offbeat tones, like Lucky McKee's The Woods (2006) or Bertrand Bonello's recent Zombi Child (2019) would have allowed Suki Waterhouse's striking but discordant Camille to usurp the same gleeful heights of the Dan Steven's character in The Guest. Would that it were.
For the first time, Waterhouse is completely captivating, and one wonders why there are not more sprinkled suggestions about her somewhat mature appearance for a high school student. Bursts of violent interludes are cathartic in the usual sense wherein obnoxious antagonists get cut down to size (such as Inanna Sarkis' brash ringleader, who has all the finesse of Lola Ugfuglio Skumpy from "Big Mouth").
Likely meant as a red herring but presented in a way which instead suggests a diminished budget, Marina Stephenson Kerr as the gently oblivious headmistress has her hand in one too many baskets considering her administrative duties, while Seamus Patterson as her son, the groundskeeper, suggests someone a bit older and more off-putting would have really sailed this into giallo territory.
The supporting cast of mostly unlikeable young vipers feel interchangeable sans Ella-Rae Smith's clearly queer Helina, and one wonders why Bartlett steered so widely away from developing this tangent, unless he's suggesting our modern maidens have regressed to the libidinal parameters of the 1950s.
Shot by Karim Hussain (Possessor; Random Acts of Violence), there are several moments which correctly sell the film's ambience (though the surprising physicality of Waterhouse assists) while a score from Sicker Man is also a delicious element. But ultimately the deepest (and weirdest) wound it inflicts is a knife through Emily Bronte's Wuthering Heights, a spare detail suggesting the need for greater subtexts.
★★★/☆☆☆☆☆