Reviews
John Wick: Chapter 2 | Review
Wick 2 Wick: Stahelski Forges Tenuous Franchise with Solemn Reeves Assassin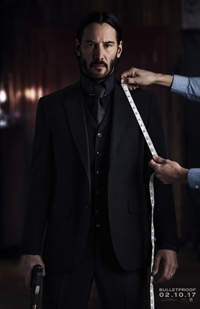 Director Chad Stahelski steps out on his own for John Wick: Chapter 2, a sequel to the surprise 2014 action hit he co-directed with David Leitch, which saw Keanu Reeves catapulted back into glorious action hero mode as a retired assassin who reluctantly resumes his talents as a lethal killer when a group of violent criminals rob him of his most prized possessions, a puppy and his 1969 Mustang. Whereas the first film, a directorial debut for stunt coordinators Stahelski and Leitch, was a surprisingly well-made action flick with illogical yet amusingly disarming components, this blazing, high-octane sequel attempts to ditch the original's dog-eared embrace of B-movie tropes in an attempt to mount a sleek new franchise for Reeves. Although much better than the risible Taken series, something even evident with this first sequel, attempts to make John Wick a mythical archetype are disserves to the fleeting ingenuity of his first rendition, and by the final frames of the sequel, he's already become a superficial phantom of endless sequences geared only for brutal altercation, booming shoot outs, and complex car chase sequences.
At a running time of two hours, about twenty minutes, maybe less, of scribe David Kolstad's screenplay is devoted to actual narrative. Rescuing his beloved Mustang only to batter it to a pulp as he takes vengeance on the final familial vestiges of the criminal kingpin who so viciously wronged him in the previous film, Stahelski retains the aura of vibrant Eurotrash, with Michael Nyqvist replaced with Peter Stormare as his brother, made to snivel incredulously to the audience in order to bring us up to speed in the opening frames. With a new dog, and his car in the repair shop with Aurelio (John Leguizamo), Wick is suddenly visited by Italian gangster Santino D'Antonio (Riccardo Scamarcio) with a gold marker, a contract signed in blood which must be honored. Wick, claiming he is a different person, is treated to violent retribution, and Winston (Ian McShane), the head of the secret assassin society The Continental, confirms Wick must honor the contract he signed, which means killing D'Antonio's powerful sister, Gianna (Claudia Gerini), head of the Italian Camorra crime syndicate, whose territory Santino is desperate to usurp.
But honoring the contract only embroils Wick further in the world he wishes to escape, now forced to contend with Gianna's slighted bodyguard Cassian (Common), while Santino's minions, led by the mute Ares (Ruby Rose) have been tasked with assassinating Wick to tie up loose ends in Gianna's murder. Fleeing Rome, Wick returns to New York, and seeks assistance from the elusive Bowery King (Laurence Fishburne) so he can make a beeline for Santino and end the ripple effect of revenge.
Reeves is as stoically effective as usual, the resolute, deadpan woodenness seemingly outfitted for his particular presence once more. This time around, Chapter 2 of the impending Wick legacy could have felt a lot more efficiently graceful had it managed to stay under two hours considering we have less interesting supporting characters to contend with.
Bigger, broader, and louder, Stahelski makes Wick an illogical demigod of combat skills, improbably surviving a constant shower of bullets in a suit apparently designed to protect him (which is explained, rather unevenly, via a battle retrofitting montage). Still, electro synth music enhances the soundtrack of the fight sequences, two of which are highly impressive, including a stunningly choreographed fisticuffs sequence between Reeves and Common as they contend with a sprawling flight of stairs, and the other, set in an ironic art installation about the soul, something apparently relayed superficially about multiplying narcissistic images to spread across space, plays like a space age version of the fun-house finale in Welles' The Lady from Shanghai (1947). Yet all of this, including a bemused, apparently omnipotent Ian McShane, doesn't amount to the same mirthful, unexpected delight of John Wick's first appearance. But now, once more an unwilling assassin and deadly target, we can assume he'll be an action figure staple for the next decade or so.
★★½/☆☆☆☆☆