Goodbye, Horses: Peele Elevates Creature Feature in Nostalgia Tinged Horror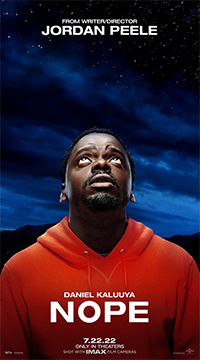 Jordan Peele continues his distinctive mixture of mainstream aesthetics and unconventional tangential elements with his third feature, Nope, an elevated creature feature of sorts which hearkens back to a heyday of 1980s studio horror films exemplifying the powers of characterization. Whittled down to its logline, Peele stamps his own signature onto a familiar 'human vs. nature' scenario, but seasons his narrative with a bright array of subtexts and motifs, resurrecting the hearty familial dynamic of early Spielberg with the social and behavioral commentary of M. Night Shyamalan.
If Peele's pacing feels arrhythmic by the third act, he succeeds in building a distinctive universe littered with supporting ragtag characters lassoed into the orbit of a vibrant but diametrically opposed set of siblings played by Keke Palmer and Daniel Kaluuya. With 2017's Get Out (read review) and 2019's Us (read review) under his belt, Peele is operating in the rare category of mainstream auteurs whose success allows for the increasingly rare unique storyline on a studio canvas, but the shadows of his previous success loom large, projecting impossible expectations. His latest is, at times, comical, but ultimately a troubling anecdote about humankind, manipulation, and the tenuous, imaginary control we maintain over our lives and the environment.
In the quiet foothills of Agua Dulce, California, mysterious objects hurtle from the sky, maiming and killing Otis Haywood Sr. (Keith David), owner of Haywood's Hollywood Horses, the only Black-owned horse training facility servicing Hollywood. Attempting to keep the business going despite growing debts, his son OJ (Daniel Kaluuya) and daughter Emerald (Keke Palmer) struggle to book gigs six months after his death, forcing them to sell horses to Ricky Park (Steven Yeun), owner of Jupiter's Claim, a nearby Western-themed amusement park.
Notably, "Jupe" was the child star of an ill-fated television show decades prior where a chimpanzee named Gordy violently attacked his human co-stars. But it appears something is lurking in the skies above Agua Dulce, alerting both the siblings and Ricky. As OJ and Emerald reluctantly recruit Angel (Brandon Perea) an inappropriately curiously salesman at Fry's, to set up an elaborate network of cameras to capture footage of a potential UFO (or UAPs, as they're now called), Ricky unwisely attempts to orchestrate a live-demonstration at his amusement park. When the apparatus in the sky descends violently upon the smattering of the human in the vicinity, the survivors must learn to ascertain how to deal with the entity by observing its patterns.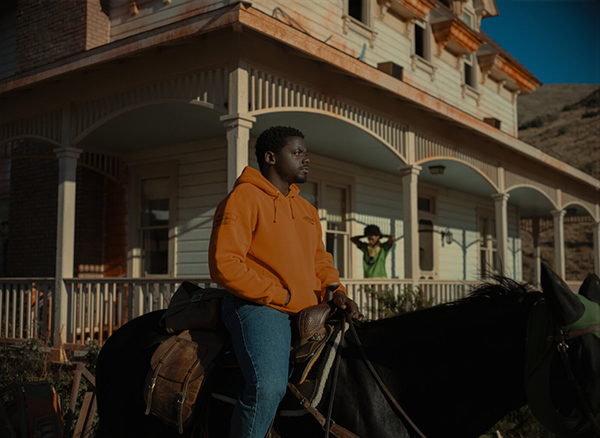 Much like Us, Peele introduces a nervy ganglion of compelling, fascinating elements, some of which tend to have a greater gravitational pull than the central storyline, while other facets are odd distractions. Yeun's Jupe, a Shia LaBeouf-like child star forever traumatized by an infamous chimpanzee rampage on a hit 1998 television show, walks away with the largest narrative window into his interiority, something overly denied OJ and Emerald (sans the latter sharing a pertinent memory which creates parallels with their current situation). The fantastic Keith David plays their father, and it's a pity we couldn't have more time between these three characters, even if just for a better understanding of their connections—i.e., what did Otis Sr. think of Emerald's sexuality or her tornado of a personality?
Eventually, Nope, a title which instills an immediate understanding regarding attitudes towards the ridiculousness of white characters in horror films, subverts these titular expectations through OJ's sole vulnerability – his horses. Once the assumed nature of the object in the sky terrorizing them is revealed, Peele's film plays like an homage to Jaws (1975), sprinkled with 80's references, like Poltergeist (1982) and a creepy use of Corey Hart's "Sunglasses At Night."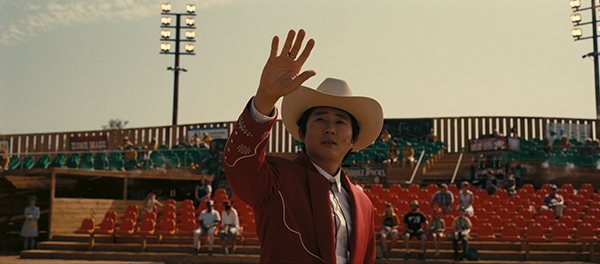 Shot by Nolan's regular DP Hoyte Van Hoytema, Nope plays like a sci-fi western, and marries itself beautifully to the cinematic themes initially introduced. The great-great grandfather of the Haywood siblings is referenced as the first live figure captured on film, a Black man riding a horse—it's a powerful image we return to, but more excitingly it conveys how a medium once exploiting their family's kin becomes an apparatus of salvation in their ability to capture the flying object on film. Also like in Us, which wove Jeremiah 11:11 into the narrative fabric, Peele opens with another biblical allusion, Nahum 3:6, a reference to Nineveh in a passage stating "I will cover you with filth and show the world how vile you really are."
Examples of men exploiting nature for entertainment or labor, whether it's the Haywood Horse farm or a chimpanzee as a reluctant television star, it's clear something higher up on the food chain has chosen to "set thee as a gazingstock," for the whirling dervish in the sky passes by those who do not gaze upon it. Peele intersects this with its human characters desiring a need to be seen, desired, and respected, whereas nature must operate as biological forces dictate rather than be subjected to interpretation/perversion by humans.
While Kaluuya plays like the perfect silent cowboy archetype to the more vivacious Palmer, Peele provides scant details and little insight to what's driving his introverted characterization, to the degree where time spent on Brandon Perea's Angel Torres (who provides a conduit to the creature, a la the comic relief of Zelda Rubinstein) feels sacrilegious. Donna Mills (of Knots Landing fame) and the gruff delights of a cinematographer played by Michael Wincott add to the bizarre mix of elements, though the balloon-rubbing horror inside the creature's squelchy orifice takes the cake as the most gonzo addition Peele contributes to the genre.
★★★½/☆☆☆☆☆