The King of Staten Island | Review
King Without a Crown: Apatow Deifies Davidson in Latest Dramedy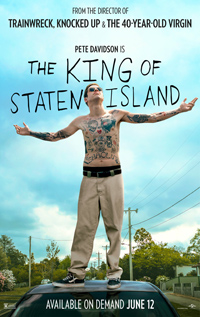 For his sixth directorial outing, Judd Apatow continues with his method of building a narrative around a comic personality in The King of Staten Island, this time attempting to showcase the appeal of Pete Davidson, outfitted with a narrative serving as a loose approximation of his own life.
As laissez faire in its approach to arrested development as it is toward establishing a specific flavor of its particular locale, the scenario, scripted by Apatow, Davidson and SNL writer Dave Sirus, doesn't always appear to take place in the real world, operating in a parallel universe where certain protocols are simply eschewed. A likeable supporting cast, including a showcase for three of its female characters, isn't enough to justify a myriad of tangents which stretch the running time to its limits at two hours and seventeen minutes.
Living in his mother's (Marisa Tomei) basement in Staten Island, aimless twenty-four-year old Scott Carlin (Pete Davidson) finds his life unexpectedly upended when his younger sister (Maude Apatow) leaves for college and mom finds romance with firefighter Ray (Bill Burr). It seems Scott's own ailments stem from the death of his father when he was a child, who was also a firefighter. Suddenly challenged to actively pursue his dreams to be a tattoo artist (he has aspirations of creating the first ever dine-in tattoo parlor), Scott instead turns his energy into sabotaging his mother's budding romance.

For those who have watched Davidson's own Netflix stand-up, much of The King of Staten Island registers as experiences from his own life, such as the death of his firefighter father in the line of duty (who actually died on 9/11) and living in the basement of his mother's home.
Charming in his maudlin, often morose persona, the requisite growth his Scott Carlin is supposed to experience by what this film has to offer (a set of gentle, often ludicrously inspired growing pains), is too easily accomplished and his own performance leans monotonously, in kind. The real vibrance comes from the ever-resplendent Marisa Tomei as his mother, Maude Apatow as his articulate sister and Bel Powley as his childhood friend/pseudo girlfriend.
The same can't be said for his posse of friends, all defined by their superficial qualities as quips of comedy. Much like that Joan and Melissa Rivers television film about their own tragic death in the family, The King of Staten Island is perhaps most cathartic for Davidson himself.
Though stalwarts like Kevin Corrigan and Steve Buscemi are wasted here, Bill Burr provides some necessary energy as an affable paramour for Tomei, and while it doesn't have the poignancy of his 2012 This is 40, Apatow and co. sometimes deliver eloquent moments (however, some of the film feels like it should have ended up on the cutting room floor, not unlike the ungainly structured Funny People, while the Machine Gun Kelly sequence isn't unlike the forced comedy of including LeBron James in Trainwreck). Shot by Robert Elswit (the Academy Award winning cinematographer for There Will Be Blood, 2007), the technical prowess behind the camera is never allowed to flourish as one might expect.
★★½/☆☆☆☆☆