Valley of the Molls: Hart and Her Lonely Hunters Find Solace in Unorthodox Crime Drama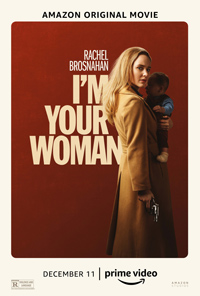 Director Julia Hart presents her second feature of 2020 with I'm Your Woman, a retro-crime saga which pivots as a character study between two women involved with the same nefarious criminal. What begins as a quiet, introspective character study segues into an offbeat odyssey of a city's underbelly wherein two supposedly diametrically opposed women beat the odds thanks to their tenuous bond.
In essence, the film feels like a fractured exercise, one in which viewers will either be attracted to the slow-burn portraiture of the first half or the cliched but enterprising spirit of the violent, emotion prone finale. A refreshing friendship between two women overwhelms what amounts to complex window dressing, but what emerges as the more interesting narrative tangent arrives in the wake of Hart and co-writer Jordan Horowitz's supporting characters.
Jean (Rachel Brosnahan) leads a comfortable if dull existence as a suburban housewife supported by her husband Eddie (Bill Heck). Out of the blue, Eddie arrives with an infant one day, to assuage her anguish over several miscarriages. Naming the child Harry, she finally seems to have everything she wants until one day Eddie disappears after having done something terrible, and now men from all over the city are trying to find him. His cohort Cal (Arinze Kene) arrives to take Jean and Harry to a safe house. Left all alone with the child, unaware if her husband is even alive, she befriends the next door neighbor (Marceline Hugot), but the interaction ends tragically, and Cal must save Jean once again, moving her to an even more remote locale. A heated, passionate discussion between them forces Cal to leave her behind again. Some time passes, and Cal's wife Teri (Marsha Stephanie Blake), her father Art (Frankie Faison) and their preadolescent son Paul (Da'Mauri Parks) arrive to keep Jean company—but Cal's continued absence sparks fears between the women. Together, they set off in the city to locate Cal and Eddie, and eventually Jean learns they are more connected than she thought.

1970s Pennsylvania is explored more through wardrobe and vintage automobiles than the production design ultimately entails, mostly because most of the narrative finds Jean in a hideout with her newly acquired infant. Hart begins on a note similar to the Coen Bros. classic Raising Arizona (1987) with the usurped child, and then becomes a story of women on the periphery, where personal meaning seems defined by motherhood more than anything else.
Solid performances from Arinze Kene as Cal, Jean's initial savior, does reflect the trenchant racism of the period while they're in public, and also assists in building empathy for Jean. Sure, she's the kept moll of a criminal whose actual activities she's completely ignorant about, but her views are worldly and well-rounded.
Brosnahan, revered for her television work in both "House of Cards" and "The Marvelous Mrs. Maisel," acutely recalls the willowy prowess of Evan Rachel Wood, here an offbeat blonde whose quiet demeanor belies passions and capabilities repressed by the world around her. It's through her chemistry with Marsha Stephanie Blake, in another fantastic performance (see her in showstopping but brief turn in Luce opposite Octavia Spencer), where I'm Your Woman begins to take the shape of a more subversive narrative—not in a romantic sense between the two women, but it's a growing bond and respect which recalls the post-WWII mothers in Diane Kurys' classic Entre Nous (1983).
Frankie Faison shows up briefly for some solid support work, but the heart of Hart's film is really the shared space of Brosnahan and Blake (Marceline Hugot is also vibrant and poignant in her brief turn). While ultimately disappointing as an exercise in thrills or anxiety, I'm Your Woman is at times compelling, but one wonders how much more interesting this would have been if the narrative had allotted equal perspectives for both women before they come together, for Blake's Teri walks away with the most intriguing story line as the more resilient character.
Reviewed on October 15th at the 2020 AFI Film Festival – Opening Night Film. 120 Mins.
★★★/☆☆☆☆☆