Hotel Spell: Durra Explores the Tenuousness of the Present Through Romance of the Past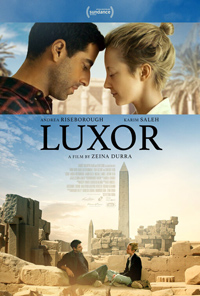 She hasn't quite lost that loving feeling, which seems to be the main impetus for the quiet actions of the protagonist in Zeina Durra's long-awaited sophomore film, Luxor. A decade ago, Durra's 2010 debut The Imperialists Are Still Alive! was also primed to speak to the present through troubling political shifts and the paranoia of clandestine allegiances, but her latest is more of a pared down, oft ambiguous narrative focused intently on one woman's shifting needs and desires, back peddling to the comfort of a time long passed to bolster herself emotionally for an unpredictable future. Nabbing Andrea Riseborough for her sympathetic lead, it's a subtle rumination on the depleting forces of trauma, pondered glibly through a brief respite in a city wherein the troubled intrigue of ghosts from an ancient culture are forever nigh.


Hana (Riseborough) is a British aid worker who has witnessed unspeakable horrors on the Syrian border but returns to the city of Luxor as a way to re-center herself before moving on to her next post on the border of Jordan. The city is filled with enjoyable memories for Hana, some of which are awakened through a chance reconnection with ex-love interest Sultan (Karim Saleh), an archaeologist who seems to know her predicament better than herself – she's living in the past. And yet, Hana is also fearful of what the future holds based on her recent experiences, and it seems as if she's trying to find a reason to keep her tethered to Luxor. Perhaps this reason would or could be Sultan, and yet Hana seems averse to easily gained comforts.
A stranger at her hotel bar unearths one of the few universal references to the eponymous city courtesy of Agatha Christie's Death on the Nile (the exploitive 1981 thriller Sphinx with Lesley-Anne Down thankfully doesn't register as prominently in the zeitgeist), but the mysteriousness of the noted locale ends up paralleling Hana's own jaunt down memory lane. Visiting some of Sultan's recent excavations triggers her own internal emotional cascades. She laughs as she asks if he's ever afraid of curses, the stuff of florid genre exercises forever married to the exploration of ancient Egypt's continually unearthed wonders. And yet, the trauma she's experienced has seemingly overshadowed some of her past ventures in the mystical Abydos, a place several acquaintances plaintively beg her to visit.
If there's any real fault with Luxor, it's within some of these slight exchanges in which the rhythm sometimes feels slightly offbeat or perhaps too labored. Riseborough has a knack for playing emotionally insular characters, existing most prominently between the dialogue. Even her wardrobe as Hana hints at her constant engulfment, drowning in the packaging of a world where navigation has become difficult.
As Sultan, Karim Saleh channels an easygoing chemistry with Riseborough, who together are charming, comfortable and perhaps best served by hiding their actual emotions considering where their professional endeavors are scattering them. He is as much a remnant as her past as the hieroglyphics are to his own, and she's left to interpret the writing on the wall which no longer reads the same way. "You used to have the best memory," he chastises her, but its clear the horrors she's likely experienced since their last meeting, and the ones she'll soon be experiencing on the Syrian border for her next assignment, have obscured everything else.
Periodically a cinematic endeavor delivers a tourist's eye view of Egypt, a country whose native cinematic offerings remain slim. Superficially, Durra's Luxor has some of the same energies as Ruba Nadda's 2009 romance Cairo Time with Patricia Clarkson and Alexander Siddig, but there's no time or room for the frivolity of a swoon in what serves as a brief escapade before the starkness of a troubling reality returns.
★★★/☆☆☆☆☆