Obvious Teen: Maine Finds Nostalgia in a Hopeless Place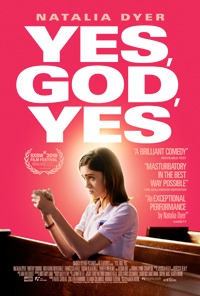 Of the many aspects particular to the late 1990s and early 2000s, where cell phones were in the evolutionary transition from advanced pagers to the devices which would rule our lives and when AOL chatrooms provided many people of a certain age with their introduction to sexuality, there's a lot which hasn't been astutely conveyed on film in this timeframe outside of nostalgic homage.
Karen Maine, co-writer of Gillian Robespierre's Obvious Child (2014), makes her directorial debut with Yes, God, Yes, based on a previous short film which is also a semi-autobiographical take on growing up a Catholic schoolgirl in the early 00s of the conservative Midwest.
Unfortunately, despite managing to show the trenchant hypocrisies of religion and the detrimental brainwashing which transpires in faith-based schools, Maine plays it safe with a series of cliched scenarios to create a diminutive and predictable portrait of lightly humorous tortured adolescence.
16-year-old Alice (Natalia Dyer) has always been a model student, but she's recently been introduced to adult materials courtesy of internet chatrooms in her small, Midwestern community in the early 2000s. A vicious rumor circulating at school suggests she 'tossed someone's salad,' a reference to a sexual act she's ignorant of, but the boy in question, Wade (Parker Wierling), doesn't feel the need to quell the spread of it. After another classmate attends a weekend school retreat, the secretive, cult-like experience called Kirkos, Alice signs up for the next opportunity, and during one awkward but illuminating weekend, bears witness to the contradictory behaviors of those in charge vs. their moral teachings and opinions.
With so few films realistically and somewhat seriously tackling women's sexual awakening, especially during developmental phases, Yes, God, Yes still feels like something of a novelty—yet we're far from something like I Am Curious Yellow (1967), for instance. Yet it is missing the poignancy and character arcs which made Obvious Child as enjoyable as it was meaningful (even the poster art for both films feels similar, willing comparison). Instead, Maine seems more fixated on soundtrack and other period details, and in competing for the pronounced religious setting, too many facets override the development and sexual awakening of Alice, diminishing what is an otherwise quiet performance from Natalia Dyer.

At the same time, one wishes Maine had pushed the envelope a bit further with the unrestrained and unmonitored era of the AOL chat room. Like a wan counter to something like Greta Gerwig's Lady Bird (2017), which takes place during a similar time period in Sacramento, but feeling like more aligned with the strain of early 2000s coming out stories (the set-up feels eerily similar to the gay conversion therapy in Boy Erased, 2018), there's no cathartic punch in Alice's narrative.
Ultimately, despite showing she experiences an awakening, it's more of a shedding of naivete than an embracing of her sexual feelings, while a cliched speech to the youth group concerning her experiences is distractingly edited and sans the punch such a moment demands. Besides a meaningful, if tritely orchestrated conversation between Alice and a lesbian bar owner (Susan Blackwell), Yes, God, Yes treads the same territory as 2004's Saved!, which was better able to tease out a myriad of complexities pertaining to teen sexuality and the oppressive hand of religious beliefs.
★½/☆☆☆☆☆