A Road Less Traveled: Lemmons Lionizes Historical Icon Harriet Tubman in Safe Biopic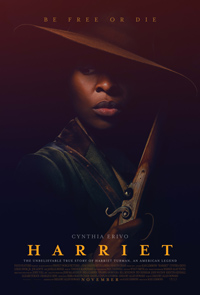 As the arrival of the first theatrical feature to properly pay homage to famed abolitionist and freedom fighter Harriet Tubman finally comes to fruition in the guilelessly titled Harriet, one wonders what took so damn long. One of the few black women whose heroic contributions to human rights haven't been completely erased or overlooked, a meditation on Tubman's life has only previously been attempted over forty years ago in the Cicely Tyson led television event "A Woman Called Moses" in 1978. The significant pressures and difficulties in what eventually led to what should be a major cinematic event at last was inherited, finally, by the right hands, in director Kasi Lemmons, a trailblazer herself with her unforgettable and moody Gothic debut Eve's Bayou (released in 1997, one should note it was only six years prior that the first African American woman had a theatrical release with Julie Dash's 1991 film Daughters of the Dust).
As compelling as Tubman's narrative is, portrayed with stoic reserve by Cynthia Erivo (center stage here after her supporting turns in Steve McQueen's Widows and the muddled neo-noir Bad Times at the El Royale, both 2018), there's a troublingly conservative pallor which shades Lemmons' realization, a script she retooled from Gregory Allen Howard (Ali, 2001) for a project once destined to be led by Viola Davis. And it's here, with the subject of slavery, America's original sin, where Lemmons plays it safe, eschewing the degradation and despair which made items like 12 Years a Slave (2013) and The Birth of a Nation (2016) as important as they were repulsive in their reenactments of the trauma and atrocities exacted upon slaves.
Not without its moments inspiring emotional recoil and dread, this account of Tubman wields her merely as a symbol, unwilling to really dig into the more complex aspects of her legacy, such as the premonitions she experienced after suffering significant head trauma as a teenager, suffering from visions she believed were bestowed upon her by God, and the impetus for her daring to defy the odds and risk her life in the painstaking emancipation of slaves.
Taking place across a span of fifteen or so years, from 1849 to Tubman's military led operation of the Combahee River in 1863, it's certainly a testament to her unfathomable resiliency—and yet, this is a film which becomes more a conduit for conversation. Much like French martyr Joan of Arc (who has been portrayed innumerably in cinema, from the likes of Falconetti, Ingrid Bergman, Sandrine Bonnaire, Milla Jovovich, and in the recent cult-courting art-house mountings by Bruno Dumont), Harriet Tubman's legacy deserves to be as revered and referential as this enigmatic French counterpart. But her visions, while often acknowledged, aren't ever really grappled with in this narrative beyond something she experiences but no one else really wants to address.
Despite some fleeting moving moments from the supporting cast, including Janelle Monae and Clarke Peters, Lemmons' film suffers from a lack of inspired segues (montages featuring Leslie Odom Jr. as William Still provide easy, arguably awkward moments of catharsis) and underwhelming technical contributions, with two-time Oscar-winning DP John Toll (Braveheart; The Thin Red Line) and composer Terence Blanchard (a regular Spike Lee contributor, Oscar nominated for his BlacKkKlansman score) driving sincerity into the realm of saccharine artifice.
★★★/☆☆☆☆☆