The Killers Inside Me: The Mo Bros' International Serial Spree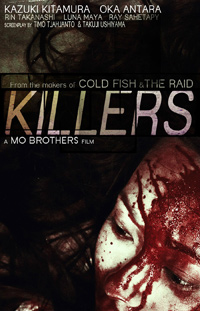 Directing duo Kimo Stamboel and Timo Tjahjanto, better known as the Mo Brothers, team for the slice and dice serial killer thriller Killers, which should at least get credit for being a bit more psychologically advanced than one might otherwise assume. Produced by a variety of notables, including Gareth Evans and Sion Sono (you'd be forgiven if the hyper-choreographed bits of bloody violence didn't remind you several times of either of those more infamous, stylized directors) and with its two leads hailing from The Raid 2, there's certainly a core audience for this type of material from which the Mo Brothers do not deviate, though its violence as mindset motif seems to prize subtexts we often find swimming in the carnage of Sono's films. Women, as are often the case in these hyperviolent explorations of the devious masculine id, are merely bodies on chopping blocks, despite having some notable faces in the chum.
Opening with a torrid heterosexual sex scene that soon finds its female member fleeing through the wilderness before meeting an undesirable end at the hands of Nomura (Kazuki Kitamura), we jump from his Japanese torture chamber to an Indonesian journalist in Jakarta, the recently shamed Bayu (Oka Antara). Unable to make accusations stick to underworld kingpin Dharma (Ray Sahetapy), which leads to Bayu's professional and personal disgrace, a violent act of retribution involving Bayu is filmed, which he uploads onto a private website where he had been watching similar videos of Nomura's. The two killers begin to communicate once Nomura reaches out to Bayu, advising that the first cut is the deepest, but it begins to get easier…and more addictive. But just as Bayu transcends into a vicious killer, Nomura becomes somewhat emotionally involved with a young woman (Rin Takanashi) that works at a flower shop after he sees her try to lure her autistic son into oncoming traffic.
Killers offers up a slew of gory violence, its increasingly apathetic characters asking the questions, "is there a point to seeing life as precious?" In this hyperstylized hellhole of irredeemable criminals, the answer seems to be no, and at a running time of over two hours, the product is a bit hollow to warrant its length, even if it is crowned with an entertaining, twisty finale that, of course, must unite its two pained antagonists.
The acting is generally entertaining with Kitamura, who also starred in Kill Bill, faring a bit better than the sometimes over-the-top Antara. Rin Takanashi starred in Abbas Kiarostami's Japan set Like Someone in Love (2012), and she's got an interesting subplot brewing that begs to be teased out more notably, though she's only on hand to tap into Nomura's developmental childhood issues concerning his sister. True, this lends the film a more serious minded edge, but it is paraphrased pop-psychology that veers on camp. But then, Killers is meant to be one of those jeering, cheering, clapping, slapping, stabbing, punching, screaming odes to visceral entertainment that's desperately trying to seem less odious than torture porn. Sometimes, it feels like it actually is.
★★½/☆☆☆☆☆