Title Track: Barker-Froyland's Cloying Debut Plays Familiar Tune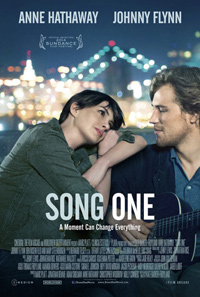 "Sad song at night, hipster's delight" should be the opening line in Kate Barker-Froyland's mournful, musically inclined debut, Song One, headlined with wide-eyed sincerity by Anne Hathaway. There have been several indie music-driven, understated dramas recently, and the title premiered alongside Stuart Murdoch's equally undernourished God Help the Girl at the 2014 Sundance Film Festival. Though Barker-Froyland at least canvasses the emotions that accompany the tragic situation at the dramatic heart of her film, its dramatic integrity seems to take a backseat to a more rewarding soundtrack from Johnny Flynn, who also stars. But one can languish in the strumming of melancholy inspiring folk music only for so long before this feels like a crutch that takes the place of material lacking in the narrative.
Henry (Ben Rosenfield) is an aspiring musical artist drifting around the orbit of his musical idol, indie singer James Forester (Johnny Flynn), currently touring in New York. But when not paying attention while listening to is iPod one day, Henry is struck down by a car, and ends up in a coma. His distraught mother (Mary Steenburgen) calls estranged big sister Franny (Anne Hathaway) home, currently in Morocco pursuing her thesis. Devastated, since the siblings parted on bad terms six months prior, Franny pours over Henry's journal and visits all his favorite places, which brings her in contact with the kindly James Forester.
There's no doubt that Anne Hathaway is a talented performer, and she gives a believable, sometimes even endearing performance as the elder sister mourning for her mortally compromised kid brother that she should have made up with after an ugly argument six months ago. But there's also something naggingly manipulative about her scenario, which would have been softened had Franny and her mother been written a bit less loosely. As they stand, we get brief peeks into their backgrounds, with Franny gallivanting around Morocco for her thesis on Nomadic Pastoration, while mom is an accomplished, self-consumed writer that harps on her youth in 1970s Paris, its young couple inquiring about who was there back then over glasses of wine one night. "Who wasn't?" she jubilantly shrieks, casting pallor of privilege that further serves to alienate its characters from the emotional connection that Barker-Froyland is attempting to foster.
The generally effervescent Mary Steenburgen isn't given much of an arc, flailing around as a guilt-ridden, perpetually absent mother figure. Johnny Flynn is a serviceable romantic cypher, depending here on his musical talents in place of any other characteristics, though the film gives him more presence than supporting turns in a pair of Assayas titles like Clouds of Sils Maria and Something in the Air (but if you like him here, check out Lotus Eaters, the 2011 debut of Alexandra McGuiness).
Song One reaches the strenuous breaking point of its uninvolving narrative, which seems to position music as a mysterious force that brings us together and sometimes breaks us apart. It's just too bad that between these approximate goalposts that the human beings we're supposed to care for weren't more resolutely interesting, even if the film is winningly photographed and pleasurably accented with the eternally romantic city (and scene) it inhabits.
★½/☆☆☆☆☆