Ease on Down the Road: Ergűven Presents Tone-deaf, Head-Scratching Portrait of L.A. Race Riots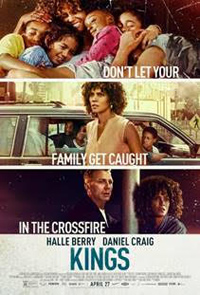 Joining Kathryn Bigelow (whose searing Detroit, depicting the 1967 riots of the eponymous city dropped in August) as the second woman this year (albeit one removed from the suppressed culture being depicted) to mount a reenactment of a pivotal turning point in the ongoing racial injustice and disparity of the US, is French-Turkish director Deniz Gamze Ergűven with Kings. A passion project for the Oscar-nominated director of Mustang (2015), it's an English language debut as curiously assembled as it is woefully tone-deaf and inadvertently demeaning despite what we can assume to be the good intentions of its creator (and we all know where those roads lead).
Starring Halle Berry and Daniel Craig as a pair of South Central Los Angeles residents grappling with the outbreak of violence in a devastated community's response to the jury verdict acquitting the LAPD officers who infamously beat Rodney King (whose surname, suggested by the title, perhaps tries to imply a confused sense of unity or comparison), Ergűven fails to convey the magnitude or context required to successfully engage with this period. Worse, it's casting decisions and celebrity focal points suggest a blatant unawareness concerning how it employs an inescapable essence of whitewashing.
The further we're removed from a historical event, particularly a traumatic or catastrophic incident where the voices and perspectives of those directly involved have been systematically erased, suppressed and ignored, the more our understanding either has the chance to deepen or intensify, or become perverted and warped in retrospect. Cinema, a relatively youthful medium in the grand scheme of humankind's artistic achievements, has also historically been used as a product to maintain the status quo or to be used as a blatant tool of revisionism to serve the needs and the paradigms of the ruling class. And thus, the slippery slopes of imaginary narratives are often used to supply the missing DNA sequences of certain events, (which often includes exaggerated tendencies), with the result of feeding audiences en masse the garbled 'telephone' version of a story.
Millie (Berry) is a resilient single mom who has opened her home to foster children, currently caring for eight kids on her own while simultaneously selling baked goods. However, her inability to turn a needy child away often results in depleted resources in the household. Trying to go about day-to-day life despite the growing racial tensions in the wake of the televised footage of the Rodney King beating while the ongoing trial of the white officers who brutally maimed him keeps anxieties on high, Millie is more invested in caring for the kids properly while arguing intermittently with next door neighbor Obie (Daniel Craig), the token white man of a predominantly black and Latino community. But despite their differences, the two of them eventually seek solace from one another when violence breaks loose during what would come to be known as the L.A. Race Riots. And yet, luckily, they remain mostly untouched by the troubled outpouring which would swallow South Central in a scourge of violence.
Berry, a consistently solemn and perennially watchable performer, can often enliven the potential of B-grade material (The Call; Kidnap) and command surprising or offbeat melodramas (Frankie and Alice). In Kings, it's clear her handwringing foster mom is meant to be a do-gooder, a woman who goes out of her way to help the needy. She's the type of person with too much on her plate (including a supplemental income from making homemade 7-Up cakes), but her intentions excuse some extreme sloppiness in her caretaking abilities. Playing every sequence like a broken-winged bird charged with saving her eggs from a burning nest, Berry repeatedly slams Millie into a hysterical hilt, and Kings quickly and often slides into camp (which isn't the distraction to aim for when deliberating the violence of the riots). But perhaps Millie is the dipstick by which one can measure Ergűven's own approach, wrongly suggesting 'caring' equates to being 'qualified' (at least as pertains to owning the role of a savior/spokesperson).
Worse is Daniel Craig, the British born Obie who lives in the apartment building next door and caterwauls with Berry over her unruly coterie of kids. He's a nag, and she's a harridan until an inexplicable and poorly conceived catalyst results in an awkward sex dream and, of course, transforms into eventual displays of their longing. However, the whiteness of Obie is never addressed. Among the many scenes of infamous news footage of these troubled days Ergűven frequently weaves into the story is the beating of truck driver Reginald Denny. The only character granted a reaction shot to this is Craig, but, like many of the film's happenings, we're left wondering what Ergűven's ultimate intention could be. Is Denny meant to represent a counterpoint to Rodney King? If so, it's a problematic comparison to assert these characters and people are all on the same playing field (the film may be called Kings, but the subtext seems to say Dennys).
Since both Berry and Craig feel out of place as far as how they look, sound, and navigate the ongoing crisis around them (i.e., they don't converse about it), Kings is to South Central what Showgirls is to Las Vegas—an unintentional parody of a period and feeling. Where are the normal, everyday black people represented in Ergűven's snapshot of a community in crisis? A foster woman with a revolving brood of Karma Club inspired kids and her British neighbor gallivanting more or less unscathed through fog enveloped haunts of post-apocalyptic inspired streets feels as labored as it does inauthentic.
The younger, supporting cast members don't feel as brashly overdone, but their characterizations are equally suspect. The only real bit of deadly violence is black-on-black crime, which comes at the hand of Jesse (Lamar Johnson), Berry's oldest ward who tends to do most of the parenting. His attraction and subsequent dramatic relationship with the out-of-control Nicole (Rachel Hilson), who is initially the only militant voice of objection before her actions become questionable, only provides more fodder for an argument on why Kings is more in tune with presenting the black community of 1992 South Central as responsible for their own demise.
But perhaps the greatest faux pas of Kings is the lightness with which it treats the notoriously racist LAPD. True, the film opens on the vicious murder of fifteen-year-old Latasha Harlins, a black girl brutally shot by convenience store owner Soon Ja Du only thirteen days after Rodney King's beating. Soon Ja Du was acquitted of the murder, the subsequent aftershock providing Ergűven with the first of many collapsed segues where horrific news items shimmer over grainy, outstretched aerial shots of Los Angeles, like edifying nightmares. But the Harlins' injustice fails to reflect the rampant racism of the Korean community towards blacks, as it does the yawning history of abuse wrought upon the black community of Los Angeles both during legalized racism and in the decades following desegregation (one wonders if Ergűven might have benefitted from Ezra Edelman's superb O.J.: Made in America, 2016).
Instead, Ergűven grants an awful lot of walk on spots for kindly cops whose reactions to how black characters are acting seems justified. As one gripes about how he hates his job, another legally altruistic officer gets a lengthy monologue as he aims a gun at Berry and Craig, mistaking them for looters and shackling them to a lamp post. Whether it's the intention of Kings, the film's woefully limited scope favors a 'both sides to blame' mentality, and echoes the problematic comments a certain commander-in-chief made about recent events in Charlottesville, VA.
Upsettingly garbled in its presentation of the injustice which caused and informed this chapter of Los Angeles history, Kings avoids the terror and overwhelming nightmare of these days to present an overly simplified story which robs its subjects of integrity and feels dangerously mistaken in its ambivalent portrayal of the white power structure.
Reviewed on September 13th at the 2017 Toronto International Film Festival – Galas Programme. 92 Mins
★ /☆☆☆☆☆