Delirium Tremens: Serebrennikov Maddens with Post-Soviet Magical Realism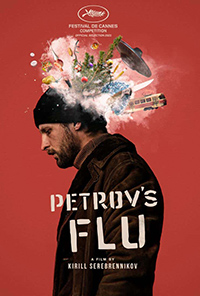 Historically, Russian cinema (and literature) always tends to go for broke. Challenging narratives, endless characters, and opulent production designs are usually par for the course, meant to wash over one as a visceral experience the first time so one can go back and start puzzling together the formidable mechanisms packed into every sequence. Such is the case with the ninth feature from Kirill Serebrennikov, Petrov's Flu, based on a cult novel by Alexey Salnikov (and which the director has already directed a stage production of). Maddening but not nonsensical, it's an aggressive jolt of an immersive experience. While not so much a sensory overload as it is a jaundiced portrait of Yekaterinburg in post-Soviet Russia, it's zany and strange, confusing and obtuse, but for each aberrant fixture, Serebrennikov loops back into his pool of perspectives as we chase the tail of a viral outbreak both literal and hypothetical.
Yekaterinburg is in the grips of a flu pandemic, the spread of which is assisted by Petrov (Semyon Serzin), who boards a bus coughing and hacking before he's retrieved by his friend Igor (Yuri Kolokolnikov), a member of the FSB (Federal Security Service). A night of heavy drinking doesn't help his condition, but he unwittingly spreads the infection to his estranged wife Petrova (Chulpan Khamatova) and their young son (Vladislov Semiletkov). As hallucinations rage, fantasies, memories and the past converge upon the Petrov family.
Another rich component of Russian cinema is science fiction, a genre which conveniently allowed for metaphorical possibilities to elude censorship. Tarkovsky and Alexey German concocted some of the most brilliant and challenging masterpieces in this vein. Serebrennikov, who revisited 1980s Russia with his last film, Leto, taps into murkier sentiments this time around.
Playing like the comedic version of Kira Muratova's The Asthenic Syndrome (1989), the putrid pallor of the constantly hacking Petrov creates a considerable trigger effect in today's global pandemic environment. Dropped into one mise-en-scene, which sometimes fluctuates or veers directly into something else, Petrov's Flu certainly demands one pays attention. Even if the rewards are sometimes far between, a handful of sequences often approach the sublime. Assisted by animations similar to those used in Leto, the only levity arrives in the possibility of worlds beyond with a recurring UFO theme. The narrative dances so fast one's head spins, but specific statements abound on a post-Soviet country still saddled by the definitions of the past.
The magical realism afforded Petrova (an appropriately bookish Chulpan Khamatova) is introduced with a bang as she takes a critic of long form poetry to violent tasking, and then preemptively waylays a would-be serial killer of women. Eventually, as we realize all the Petrov's are experiencing hallucinations in the throes of delirium caused by their fevers, a lot of the stylization snaps meaningfulness into place like jagged puzzle pieces (though sometimes, these flourishes outweigh their welcome). Like a virus, however, the perspective spreads, and sometimes into specific periods of Petrov's childhood.
At its zenith, Petrov's Flu marries three storylines into a Christmas party, where Igor and Marina (Yuliya Peresild), the reluctant Snow Maiden, become initially connected. Another underlying metaphor here is how our pasts are also connective tissue, a la a virus the body creates immunity against. As the lead, returning Leto alum Semyon Serzin is a poker faced cipher, but Serebrennikov pushes the boundaries when Serzin shares a kiss with Russian pop star Ivan Dorn as his writer friend Sergey (although Sergey's exit from the film is the most maudlin).
Also on hand is Yuriy Borisov (the winning lead of Compartment No. 6 from director Juho Kuosmanen) as Sasha, a doomed love interest of Marina's. A healthy dose of male full frontal adorns these drastic stylistic changes from DP Vladislav Opelyants (Leto), between nauseous, glossy and vintage accents all which create a dizzying stew of a film. But perhaps it's the final frames of Petrov's Flu which really provides its power…for what doesn't kill you, after all, makes you stronger.

Reviewed on July 12th at the 2021 Cannes Film Festival – Main Competition. 145 Mins
★★★/☆☆☆☆☆
Related Topics:
2021 Cannes Film Festival, Aidar Salakhov, Aleksandr Ilyin, Alexander Bohr, Andreas Roald, Carole Baraton, Chulpan Khamatova, Cinema of Russia, Constantin Briest, Dan Wechsler, Elizaveta Chalenko, Eric Tavitian, Foreign Film Review, Fréderic Fiore, Georgiy Kudrenko, Gerhard Meixner, Ilya Dzhincharadze, Ilya Stewart, Ivan Dorn, Jamal Zeinal Zade, Kirill Serebrennikov, Murad Osmann, Olga Voronina, Olivier Pere, Pavel Burya, Pierre Mazars, Rémi Burah, Roman Paul, Russian Cinema, Semyon Serzin, Semyon Steinberg, Sergey Dreyden, Timofey Tribuntsev, top-stories, Vladislav Opelyants, World Cinema review, Yohann Comte, Yulia Peresild, Yuri Kolokolnikov, Yurii Karih, Yuriy Borisov
Nicholas Bell
Los Angeles based Nicholas Bell is IONCINEMA.com's Chief Film Critic and covers film festivals such as Sundance, Berlin, Cannes and TIFF. He is part of the critic groups on Rotten Tomatoes, The Los Angeles Film Critics Association (LAFCA), the Online Film Critics Society (OFCS) and GALECA. His top 3 for 2021: France (Bruno Dumont), Passing (Rebecca Hall) and Nightmare Alley (Guillermo Del Toro). He was a jury member at the 2019 Cleveland International Film Festival.