Don't Worry Darling | Review
Die, Die, My Darling: Wilde Makes Utopia a Dirty Word in Sinister Thriller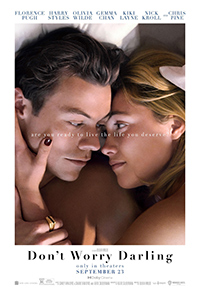 "There's beauty in control" affirms a suave Svengali at the center of an experimental desert Arcadia in Olivia Wilde's sophomore film, Don't Worry Darling, and indeed, to quote Janet Jackson, 'this is a story about control,' though it's far from beautiful. Essentially, Wilde succeeds in creating a tonally successful remake of The Stepford Wives (something Frank Oz wasn't allowed to correctly conjure back with the 2004 rehash of Ira Levin's novel, which produced the iconic feminist psychological horror film from Bryan Forbes back in 1975). Sentiments about the Oz version of this similar material were consensual about how the narrative could be taken out of the 70s, but you couldn't take the 70's out of the film. In other words, this feminist allegory was mining what we'd now call those 'making American great again' sentiments where men dismayed by the sexual revolution and women's lib trying to push their wives back into the straitjacket of the 1950s.
This treatment plants us square in the middle of the 1950s in a script co-written by Wilde's Booksmart scribe Katie Silberman alongside Carey and Shane Van Dyke (Chernobyl Diaries, 2012), and like a Twilight Zone prequel to Levin, formulates a secret empire being run by men in a magical Edenic oasis, while their frivolous, coiffed wives are on hand for passionate sex, gourmet cooking and endless martinis. The film is a standard but compelling execution of menace as this world slowly closes in on the protagonist, eventually revealing not one but two surprising twists which eventually justify the point of it all, even though it's ultimately a story lacking anything beyond a generic update on what some heterosexual men might like to do to women should they be given the opportunity—-and, grimly, this exercise asserts how little has changed since The Stepford Wives but also how inferential 'original' storytelling has become.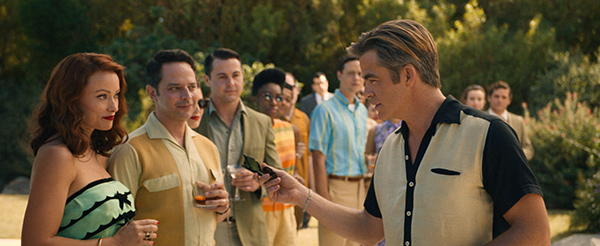 Alice Chambers (Florence Pugh) is happily married to her husband, Jack (Harry Styles), the two of them living in an experimental community called the Victory Project somewhere in the California desert. Every day, the men drive off to a compound on a hilltop, where only employees (i.e., not women) are allowed. The community is led by a man named Frank (Chris Pine), his workers 'developing progressive materials,' and operating in utmost secrecy. Frequent minor earthquakes generate rumors about weapons manufacturing among the wives. But they're all well versed in following the rules, which means not pestering their husbands with questions, and, most importantly, not wandering off into the desert to approach the Victory Project Headquarters.
Alice is initially just fine with these stipulations, happily cooking all day to satisfy her husband's appetite, basking in the glory of heated sexual passion in a household without children, unlike many of their neighbors. Alice's best friend Bunny (Wilde) is a social ringleader amongst the women, dictating tastes and throwing drunken parties at her home with husband Dean (Nick Kroll). But something isn't quite right, especially as concerns the increasingly unsound Margaret (KiKi Layne), once a friend of Alice and Bunny until she started exhibiting mental health issues following the death of her son (she was, after all, told not to wander into the desert).
One day, while on the town trolley by herself, Alice sees a plane crash into a mountainside, taking it upon herself to see if there were any survivors needing assistance. Approaching the edge of the headquarters compound, she collapses, suddenly waking up in bed, her husband telling her she had a bad dream. Alice can't quite believe it, experiencing increasingly sinister hallucinations and vague memories, driven to the edge when she sees Margaret slit her throat and fall off a roof. Victory's community physician, Dr. Collins (Timothy Simons) prescribes pills, but gets Alice to agree she imagined the grisly details of her friend's fall. When Frank grants Jack a major promotion at a high profile community event, Alice is accused of undermining her husband due to her erratic behavior. Rebuffed by Bunny after sharing her concerns, Alice tries to prove she's nothing like Margaret by hosting Frank and several other couples at a celebratory dinner in her home. Dinner, however, doesn't go quite as planned.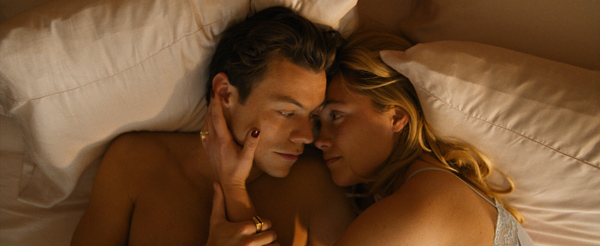 Florence Pugh, the strongest component of the film, solidifies herself as Queen Supreme of the gaslight survivor following her antagonized characterizations in Lady Macbeth (2016) and Midsommar (2019). Although Don't Worry Darling doesn't have the same level of narrative finesse as either of those films, there's a lot to appreciate in this Palm Springs shot suburban hellscape of repetition, especially until the third act M. Night Shyamalan style reveals which yield some pertinent questions the running time spares no time to answer. However, Wilde's film, perhaps unconsciously, utilizes a certain advantage in modern storytelling, where whitewashing or reinventing historical accuracies has become commonplace, but some pretty blatant discrepancies, namely the progressive desegregation of this community, will likely lessen what the film tries to present as a startling reveal.
If Antebellum (2020) so brilliantly examines the reality of racism today, the message of Don't Worry Darling ends up feeling a bit muddled. Perhaps this is indeed a scenario we cannot shake from the claws of first wave feminism enough to intelligently examine other intersections. Once the nature of this universe is revealed, it suggests a whole slew of more inventive subtexts it could have effectively explored.
As emotionally astute as Pugh is in every single scene, there's nothing else operating at her level. Due to the significant tabloid fodder which is doomed to marinate the film's reception, an enhanced gaze will likely focus on superficial elements. A case in point is Harry Styles as Jack, the script modified to explain his British accent after Shia LaBeouf's infamous exit of the project, who both in character and performance has no impact or screen presence. Both Gemma Chan and KiKi Layne feel underutilized, and a burlesque cameo from a blonde Dita Von Teese does little to enhance the wonky wow factor her presence should.
Chris Pine's casting as the smirking Frank yields some enjoyable moments (though he's no Patrick O'Neal from Stepford), and Wilde gives herself the juiciest supporting role as the scene stealing Bunny, even if she seems to be an echo of both Paula Prentiss and Kathy Baker's gossipy, suburban harpy in Tim Burton's Edward Scissorhands (1990).
Aronofsky's usual DP Matthew Libatique (who just lensed The Whale) does a fine job of establishing menace in this sunny sci-fi tale, while a stand-out score from John Powell is also a major asset. Ultimately, Don't Worry Darling needed to hit a lot harder at the logical fallacies presented in Frank's brainwashing machine, referring to the idea of how chaos is the enemy of progress. But progress demands some element of chaos in order establish change, while order usually serves as the antithesis to progress in conforming to tradition and archaic protocol (i.e., even a limited dichotomy between Republicans vs. Democrats would have enhanced the subtexts beyond a simple gender division). Wilde's film needed to implement a greater sense of these themes to relay not just what's going on, but also why.
Reviewed on September 5th at the 2022 Venice Film Festival – Out of Competition. 122 Mins
★★★/☆☆☆☆☆