What the Dormouse Said: Linden Squanders a Significant Subject in Earnest, Flat Rendering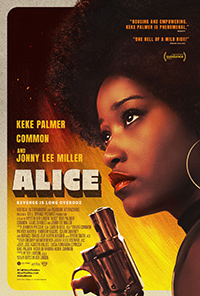 "If a story is no good, being based on Hamlet won't save it," wrote noted English professor Thomas C. Foster. The same can be said for any compelling narrative 'inspired by true events,' which unfortunately is the nagging issue with Alice, the directorial debut from Krystin Ver Linden, whose titular protagonist is a slave on a Georgia plantation eventually realizing it's 1973 after a moment of extreme violence forces her to flee beyond the tree line.
Considering the recent discovery of a contemporary migrant slave plantation at the end of 2021, not to mention the resonance of this material with 2020's searing horror thriller Antebellum, this was Linden's game to lose. And yet, despite a formidable lead performance from Keke Palmer, this tonally awkward endeavor stumbles on earnest sentiments rather than mining the delirious brutality of its reality. And worse, it fails completely in its alternative leaning as a cathartic fable meant to inspire hope where there's none to be had. Instead, the film plays like Blaxploitation Cinderella when it should at least equal the compromised integrity of the Pam Grier archetype it clumsily struggles to mime.
Alice (Palmer) is a slave, along with her family, on a 55-acre Georgia plantation owned by Paul Bennett (Jonny Lee Miller). She's secretly been wed to Joseph (Gaius Charles), but Paul has plans to send him away for procreative purposes at another nearby plantation. A passion for reading allows her a small sense of succor, and when she's not forced to read aloud to Paul (or serve his sexual needs), she's pilfering books from his library to read. When Joseph suggests they escape, the venture ends in tragedy, forcing Alice to flee into the trees, eventually making her way to a freeway…where she discovers it's 1973 and slavery ended the century prior. With the help of a friendly man named Frank (Common), Alice plots to free her family remaining on the Bennett plantation.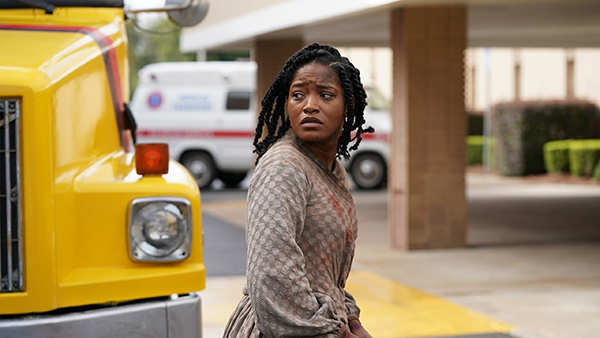 The image of Palmer fleeing the woods conjures primal cinematic tropes in the opening moments of Alice. Whereas we are hardwired to accept the inevitable plight of a white woman's futility in a slasher flick with these kinds of sequences, Linden at least begins on novel suggestion of divergence in a narrative hot-wired for a moment of reckoning and reclamation. But then Alice slips into the kind of racist soap opera akin to Mandingo by spinning its wheels on the makeshift plantation run by Jonny Lee Miller, an empty run-of-the-mill cipher (the more interesting element is his ex-wife, played by Alicia Witt, despite a dubious Southern accent, reduced to a throwaway catalyst).
It would have been more interesting to open upon Alice's rescue at the hands of Frank and allow the audience to question her mental acuity in the same manner until her reunion with Witt's Rachel. This would have reduced the plantation sequences to the kind of empty flashback sequences they should have been, pulling focus on her tortured marriage to Gaius Charles' Joseph.
Instead, Linden cuts egregious corners where all the dramatic sustenance should flourish, namely between her relationship to Common's Frank, an oddly conceived ex-militant who somehow can't find the time to ask Alice what happened to her until the last twenty minutes of the film despite all the considerable red flags in her dress and speech. Miraculously, Alice transforms from braided waif to glorious Afro goddess in the blink of an eye, like Venus di Milo emerging from the sea as a Pam Grier/Angela Davis avenger. It's clear from these miracles Linden desires to spin a formidable wrong into the realm of legend, but instead the parameters are so raggedly hewn it becomes laughable. Left to her own devices in Frank's home, Alice somehow pieces together the meaning of slavery, the Emancipation Proclamation and the usage of a phone book in the span of a few minutes. Next, a screening of the film Coffy (plus an eye rolling television montage of pertinent images through Common's god-like channel changing) suggest Alice aims for an entirely different energy, but Linden drops the ball on subtext.
Grier's agency as an action icon, for instance, sidesteps the exploitation element, such as how her characters were often sexually assaulted in the narrative (i.e., Coffy in particular), while the 1970s references to the name Alice are bountiful. From Alice Doesn't Live Here Anymore, the Linda Lavin television series, the anonymous harrowing memoir Go Ask Alice and it's marriage of Jefferson Airplane's "White Rabbit" to Lewis Carroll, there are countless mirror images and opportunities for Linden to play with the agency and iconicity of white women to the rise of a Black Alice—even as a bid to instill a presence where there has forever been an absence in our cultural discourse. This should have been an Alice primed to stand toe to toe in the zeitgeist. However, it's all for nought, and an emotionally persuasive performance from Keke Palmer often feels in vain, especially since many of the film's supporting players and the clunky screenplay diminish what she brings to the table.

What we should be left with at the end of Alice is the distress of realizing an instance where, on one 55-acre plantation in Georgia, slavery extended over a century past the Emancipation Proclamation and what were supposedly the last slaves freed on June 19, 1865. Generations of families lived and died in this scenario, its heroine flippantly told "we never said you couldn't leave." But these realities are overshadowed by poor storytelling when they should instead settle and ache in our bones.
Reviewed on January 23rd (virtually) at the 2022 Sundance Film Festival – U.S. Dramatic Competition section. 100 mins.
★★/☆☆☆☆☆