Call Her by Her Name: Gerwig Shifts Shrewdly in Director's Seat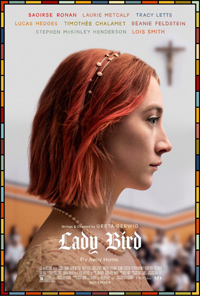 Actress Greta Gerwig, alum of the American film movement known as Mumblecore and ingenious muse of Noah Baumbach, pivots enthusiastically behind the camera with her first solo outing as director, Lady Bird, a deeply moving, highly perceptive portrait of a young woman's shift from adolescence to something nearing adulthood in Northern California, 2002.
Steering clear of the cliched, referential signifiers usually leaning in on such pronounced periods and narrative passages, Gerwig casts a wry glance at a transitional period for a faux rebel dreamer whose moments of truth come not from her romantic attachments but her complex relationships with a best friend and an endearing but domineering mother. Though familiar in subject matter, despite its uniquely confident female perspective, Gerwig never hits a false note, oscillating between wisdom and poignancy without falling into the trap of the nostalgia from a period so clearly influencing this sweetly tuned homage to misguided angst, ignorant yearnings, and the desire to break out on one's own.
Plunging through her final year of high school, the self-named Lady Bird (Saoirse Ronan) seems mostly intent on defying expectations rather than pursuing a future career. Tired of the Sacramento Catholic School she's been forced into thanks to her mother Marion's (Laurie Metcalf) fears of the increasing violence at public schools, she's grown tired of living in the shadow of her older brother Miguel (Jordan Rodrigues), who lives at home with his girlfriend Shelley (Shelly Yuhan). When dad Larry (Tracy Letts) loses his job, more burden is placed on Lady Bird (who refuses to answer to her given name, Christine) to attend a local college since her parents can't afford to assist. Wishing to get as far away from Sacramento and her home life as possible, she makes a last-ditch effort to buck her trend of mediocrity. Discovering possible romance with a pair of interested boys at school (Lucas Hedges, Timothee Chalamet), Lady Bird begins to learn there are consequences to her actions and some rewards for her efforts.
Lady Bird is the kind of semi-precocious character who's difficult to define, partially because she's a young woman who hasn't mastered the ability to foster her interests or harness her creative energies. Only knowing she wishes to break free from the stagnancy of Sacramento and the nagging economic realities so aggressively tended by her mother, she somehow hasn't figured out her pursuits in math are fruitless. Instead, she's steered towards her obvious flair for theatricality by the kindly Sister Sarah Joan (a warm, empathetic turn from character actress Lois Smith).
Gerwig makes obvious efforts to showcase Ronan as a relatable, regular character, a young woman on the precipice of fashioning her own identity but currently stuck in a transition where her only hard-truths regard what she doesn't want. Peppered with light traces of acne and a mop of an uninspired hairdo, she's nevertheless a striking composite of tenacity and tentativeness (and follows in the footsteps of the portraits in Mike Mills' 20th Century Women, of which Gerwig was part).
We see the inevitable end to her relationship with fellow high-school thespian Danny (recent Oscar nominee Lucas Hedges shares one the film's most significantly meaningful exchanges with Ronan) as well as the toxic dalliance with a spoiled little rich girl played with perfect obliviousness by Odeya Rush. Timothee Chalamet, hot off his star-making turn in Luca Guadagnino's Call Me by Your Name, gets to play an obnoxious pre-hipster as a sulking musician who plays the usual manipulative cards to get what he wants from his female peers and Tracy Letts provides warm support as a tender, job-less father.
Gerwig plumbs greater depths with Ronan's relationship to her friend Julie (Beanie Feldstein), her less attractive counterpart who is clearly supposed to be the supporting shoulder for all of Lady Bird's whims. Ronan's disappearance into the flippancy of Lady Bird is so complete, it's almost easy to overlook, especially in the wake of Laurie Metcalf, who lands a career best role as an overbearing but kind-hearted mother, a woman whose economic worries are underlined in every exchange, her work scrubs the silent witness to her reality in almost every scene.
Showcasing the tenuous period of a recent post-9/11 world, when late 90s musical artists like Alanis Morissette and Dave Matthews were still influential staples of the heteronormative, white, middle-class experience, Lady Bird is a generous portrait from a writer/director/actress who knows something about authenticity.
★★★½/☆☆☆☆☆