Her Best Friend's Wedding: Kim's Poetic Exploration of Muted Desire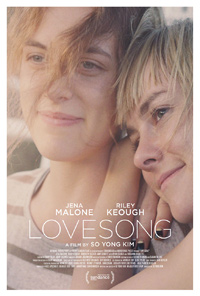 Indie auteur So Yong Kim continues in English with her fourth narrative feature, Lovesong, a road-trip film which turns into a moving, understated portrait of muted desire. This is Kim's first film since 2012's For Ellen, which was the director's first English language feature and first narrative focused on a male protagonist. But what strikingly unites all of her films are each of their idiosyncratic ways of featuring isolated, lonely humans grappling with disenchantment, usually through some sort of awkward transitional phase, a temporary limbo where goals and dreams lie just outside their grasp. Her latest is no exception in this regard, and features recurring motifs Kim seems fascinated by, namely precocious children involuntarily puttered about in the lives of their malcontented parents. But the focus here is on the carefully moderated relationship of its two leads, a complex pattern of pregnant silences and meaningful expressions filling in for dialogue which would only estrange them further than the social expectations they've already been proscribed.
Sarah (Riley Keough) is a young mother stuck caring for her young daughter while her husband is perpetually away on business. When her college friend Mindy (Jena Malone) drops in for a visit, the two abscond on an unplanned road trip and reminisce about the past. It is clear Sarah is viciously unhappy with her current domestic situation and an unspoken intimacy from their past becomes evident between the two friends. But since both are unable to directly acknowledge their feelings, Mindy suddenly leaves Sarah alone on the road trip. Three years later, Sarah is invited to Mindy's wedding, and she is finally forced to confront how she feels for her friend.
Kim previously worked with both leads before, with Malone in a supporting role in For Ellen and Keough in her 2014 short "Spark and Light." And there's more than a slight resemblance to the 2012 title Jack and Diane, an indie lesbian werewolf romance directed by Kim's partner Bradley Rust Gray (who also co-writes here) starring Keough. Lovesong is hardly as fantastic as Rust's more genre oriented exploration, and Kim's focus is instead on the visual relationship of these two women in any particular frame. There's a pronounced difference in Lovesong's two distinct segments, the road trip portion lensed by Kat Westergaard and the wedding sequence by Guy Godfree. The trickier feat is the establishing sequence because Kim sets us into an unpredictable element of stale heteronormative woes and slowly feeds us coded information about the history of friendship shared between these two women.
While Keough has heretofore served as a glaring distraction thanks to her noted lineage (the granddaughter of Elvis Presley), Lovesong is perhaps the first film to exemplify her willowy talents as an actress. She's quietly mesmerizing as the hopelessly melancholy Sarah, to an extent there's a palpable, throbbing sympathy built persuasively by Kim's deliberate pacing. She steals the film from the equally impressive Malone, here a selfish wild-child who seems intent on wasting everyone's time while she decides what it is she wants to do. The meaningful exchanges eventually prove Mindy to be a master at manipulation, though not altogether heartless.
The second half of the film finds an array of notable supporting cast members, a demure Amy Seimetz as the soon-to-be sister-in-law, Ryan Eggold (The Blacklist) as the fiancé, and gruff singer Marshall Chapman as their mother. A surprise turn from Brooklyn Decker finds the blonde beauty in an uncustomary unflattering role as a vapid, vile maid- of-honor, while a wonderful Rosanna Arquette as Malone's acerbic mother is quite effective in her limited screen time.
Scored by Icelandic composer Johann Johannson (Sicario; The Theory of Everything), there's an inescapable sadness to Lovesong, its characters unable to vocalize their desires, perhaps for fear of destroying the glimmer of hope their feelings represent. In many ways, it's akin to the muted relationship in Diane Kurys' 1983 film Entre Nous, as well as a handful of other titles depicting women bridled by expected social roles. Much like the abandoned young girls in Kim's masterful 2009 sophomore feature Treeless Mountain, the women of Lovesong are on the more frustrating, adult perspective of disillusionment, where the existence they lead vs. the existence they desire may never be reconciled.
★★★½/☆☆☆☆☆
Reviewed on January 25 at the 2015 Sundance Film Festival – US Dramatic Program. 85 Mins.