About Last Knight: Kiriya's Culture Club Reimagining of the Feudal System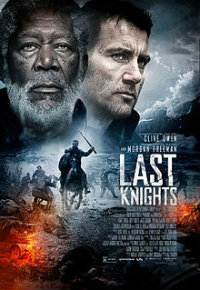 It's unclear for who or for what reason Japanese director Kazuaki Kiriya decided to undertake his English language debut, Last Knights, a convoluted pseudo-revenge flick that plays like some very watered down version of the classic 47 Ronin mythos but reconstituted within a parallel universe's sci-fi inspired Crusades tale. A gig is a gig, so we can't blame the poo poo platter of multicultural actors portraying peoples we're supposed to believe all resided in the same place (not to mention, fought for the same cause), each with varying degrees of accented and/or broken English. Incredibly flaccid and late staged action sequences following a baffling revenge plot don't help matters, except maybe to say that even if the world had known an age of such incredible diversity we still wouldn't be able to all just get along.
Morgan Freeman's smoothly confident, placating tones assure us that we've entered a particular time in history after a period he refers to as the Great Wars, which precipitated a progressive melting pot empire of all races and creeds working together in some great, equality minded feudal system. We learn that the kindly and fair Lord Bartok (Morgan Freeman) is in a disagreement with the Interior minister, Gezza Mott (Aksel Hennie), who has demanded that the lords bestow lavish gifts upon him as bribes to get their requests fulfilled. The Emperor (Peyman Moaadi) doesn't really care for the minister, but he finds him to be a necessary evil. When a physical altercation occurs between Bartok and the Interior minister, the ailing lord is sentenced to death at the hand of his loyal protégé, Raiden (Clive Owen). Reluctantly doing as he is ordered, Raiden and Bartok's men vow secret vengeance…and a year later, return to seek retribution.
"Honor is something that all men are born with….It must only not be lost," is one of several funny little nuggets of forced noble-mindedness uttered by Clive Owen's avenging angel, which the screenplay by Michael Konyves and Dove Sussman tends to depend on exclusively in its final act, though its honorable message recedes within the usual violence accompanied by such rhetoric.
As filmed in the Czech Republic, Kiriya captures a decent, if hopelessly generic period tone, but even enhanced with plenty of green screen backdrops, it seems cheaply sewn together. The astoundingly mixed cast is laughable, filled with a bevy of international players that include Israeli actress Ayelet Zurer (in yet another throwaway role), Iranian beauty Shoreh Aghdashloo, and her fellow countryman Peyman Mooadi (incredibly wooden and seemingly bored, a far cry from his nuanced performances in A Separation and Camp X-Ray), and, the lone camp factor with striking Swedish actor Aksel Hennie (Headhunters; Pioneer) as the sniveling villain, coded with all the effete characteristics of a film noir sexual outcast.
When the film is not being outright and absolutely asinine, Last Knights manages only to be tragically underwhelming considering the likes of Clive Owen and Morgan Freeman stomping about in generic monologues about duty and honor. Inappropriate casting and English language issues have long plagued Western depictions of medieval inclined films, though it isn't always an automatic death knell for the final product (such as due reconsideration for something like Paul Verhoeven's 1985 Flesh+Blood).
Kiriya's last film, Goemon (2009) concerned a Robin Hood-like protagonist (based on a Japanese folk legend) that also has to avenge his master's murder while also having a predilection for helping the less fortunate. Clearly a narrative Kiriya seems infatuated with, the convoluted message of Last Knights is lost in a sea of poor choices.
★/☆☆☆☆☆