Suffer the Children: Wandel Explores Bullying Through a Child's Perspective in Superb Debut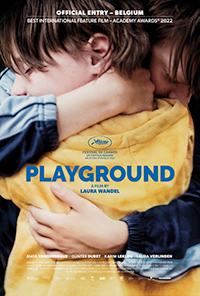 If everything one needs to know is learned in kindergarten, part of this is a conditioning to navigate the treacherous ambivalence of one's peers. Bullying drives the brute force of Laura Wandel's ferociously distressing Playground, (Un monde) the asphalt jungle of childhood joy and anguish, where invisible hierarchies are revealed amongst the repressed dysfunctions of the savage student body. Told completely through the eyes of its seven-year-old-heroine, it's a grueling if begrudgingly hopeful tale of an initial introduction to the cruelty of a world too large to properly care for the well-being of all. Wandel's painstaking efforts to paint a world completely from the perspective of an innocent quickly corrupted by the self-awareness demanded in the social realm culminates with a rough hewn composite of an intimate grace.
Nora (Maya Vanderbeque) is tearfully resistant upon her first day of school, clinging to her older brother Abel (Gunter Duret), who quietly consoles her. On the playground, she seeks out her brother, who is part of a posse of bullies. While trying to shoo Nora away, the ringleader of miscreants sets his sights on Nora, but when Abel comes to her defense, he becomes a victim. Shortly thereafter, Abel becomes the target of the bullys' ire. Witnessing her brother's adversity, Nora is unable to articulate to the adults at school what she sees, and eventually Abel becomes subjected to increasing violence. When this culminates in an extreme episode of bullying, the resulting reputation of Abel begins to affect her own social development, leading to resentment on her part. But when Nora begins to see how Abel's experiences lead to his own developing violent transgressions, she realizes a need to intervene in the only way she knows – to love her brother.
Arguably, the trajectory of Abel (conjuring a compelling continuity with his Biblical namesake) is a slippery slope exemplifying how 'hurt people hurt people' as a victim in an oblivious environment. Devolving quickly into a violent perpetrator whose actions are more extreme than those waged against himself, Wandel wanders from the neorealism of the Dardenne Bros. into what feels like the shallow waters of Haneke's social nightmares. But with Nora as the focus, whose childish ignorance and reactionary tendencies are wholly believable, Wandel eventually lands somewhere in the territory of Maurice Pialat, more interested in the intimacy of her subjects than making a grand statement of the environment acting upon them. Newcomer Maya Vanderbeque is consistently impressive, allowed to behave as a child amongst her peers, developing behavior tics expertly influenced by the situation involving her older brother.
Frederic Noirhomme's cinematography keeps the POV at her level, with most of the adults out of sight unless they're stooping to her eye line for more intimate communication. However, these instances are few and far between, with their distracted stay-at-home dad (a clueless Karim Leklou) unsure of what needs to be done, and a reserved, sympathetic teacher offering necessary emotional support. Between the film's moments of frustrating terror, we find Nora engaged in all the usual activities of a child her age, fast friendships developing over silly conversations and ignorant activities (like playing with the corpse of a dead bird at recess).
Wandel conjures the uneasiness and nostalgia of childhood memory through Nora, where our formations of how unstable the world really is are awakened violently in her futile attempts to help her brother, transitioning to her disdain in how his public shame begins to affect her own superficial friendships. Although a brief exercise, Playground packs an emotional wallop, ending perfectly with a bookend sequence where the intention of a hug provides a comfort and salvation reflecting a devastating but perfect exemplification of love and maturity for a young girl and her brother.
★★★★/☆☆☆☆☆